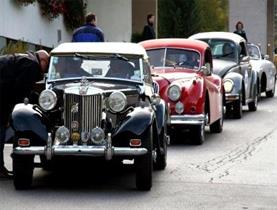 The Classic Cars on the Promenade event will be celebrating its 10 year anniversary this summer, as they showcase an even greater number of cars than ever before.
The fantastic occasion will be held at Westcliff Promenade, and will continue to feature some of the best vintage cars in the country. The event is free for public viewing, and with up to 200 cars being displayed, attendance is a must for any petrol head.
Stuart Wallis, Hot Rocks Classic Car of the Week winner, helped to build a Chitty Chitty Bang Bang replica car last year for the Ringwood Carnival from the body of a Land Rover car, and has been a great accessory to the event ever since. This has helped the Classic Cars on the Prom event to become more of a family attraction, making it busier than ever.
The event will continue throughout the summer months and the event organisers hope to encourage more people to come and learn more about these timeless cars. All cars dated between 1915 to the 1980s are welcome, and can be found every Sunday behind the Bournemouth International Centre.