[two_third] 
In a bid to guarantee the supply of all the electronic goods we need and use in our daily lives, the UK has joined the global race to topple China's stranglehold on rare earth elements.
Scared of a future without computers, TVs, smartphones, even light bulbs, in March 2012 U.S president Barack Obama announced that the United States, backed by the UK as part of the European Union as well as 17 other countries, had submitted an official complaint to the World Trade Organisation (WTO) about China's rare earth element export restrictions.
Rare earth elements (REEs) – also called rare earths, rare earth metals or rare earth materials – are key components for an incomprehensibly vast array of products we rely on daily. Without them, you wouldn't be able to watch TV, own a smartphone, drive your car, or see outside after dark.
And today, their supply to the UK and other Western countries is both under threat and facing soaring costs amid a highly volatile market.
This is because China holds an estimated 97 percent world market share of REEs, which includes a near 100 percent global stranglehold on the more desired heavy rare earth elements (HREEs), and has consistently slashed its export quotas.
In 2008 the world's most populous country cuts its quota of rare earth exports by 4 percent. The following year, the quota was cut again by 12 percent, to 50,145 tonnes.
Then came 2010 and the global panic, as China slashed exports further, down a whopping 40 percent to 30,258 tonnes. Thanks to the laws of supply and demand, rare earth prices skyrocketed.
Neodymium (Nd) and dysprosium (Dy) – two elements essential for virtually all consumer electronics, and whose demand will increase by 700 percent and 2,600 percent respectively over the next 25 years according to a study by the Massachusetts Institute of Technology (MIT) – prices, for example, rose a staggering 2,250 and 3,000 percent, from around $20/kg and $150/kg to $450/kg and $4,500/kg respectively.
Though since 2010, China's export quotas have remained similar – 30,246 tonnes in 2011, 30,996 tonnes in 2012 and 30,999 tonnes in 2013 – bringing an equilibrium to prices. The most recent price of Nd is $98/kg, while Dy currently costs $1,100/kg.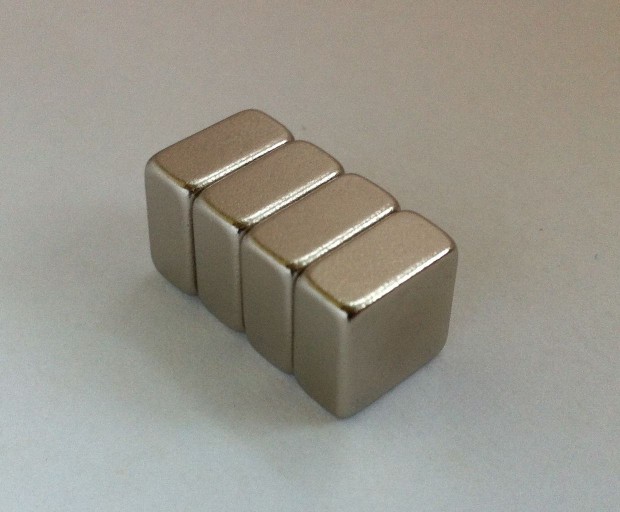 Rare earths are still far more expensive than pre-quota prices thanks to China's current export restrictions however, and the risk to supply is increasing as the Chinese hold back more resources for rapidly rising domestic consumption.
This affects the UK, explains Andrew Bloodworth, Science Director for Minerals and Waste at the British Geological Survey, a research council which advises government on supply risk and how to mitigate that risk.
"Supply of rare earths is an issue for the UK. They are reliant on watching what is happening in the world and managing the risk accordingly", he says.
UK Joins the Rare Earths Race
And as REE prices continue to fluctuate, the UK has joined a global scramble to exploit new mineral resources in an attempt to bring back stability to the volatile REE market and guarantee future supplies.
Driven by the need to secure supply for their own manufacturing, UK Seabed Resources (UKSB), a subsidiary of global security and aerospace company Lockheed Martin, was launched in March 2013 to enable Lockheed Martin's British arm get ahead of the chasing pack by creating a seabed mining market for REEs, which can only be mined as a by-product of other metals.
Sensing a prime opportunity for the UK to revive its ailing economy by protecting the future of the electronic goods we're reliant upon in our daily lives, Prime Minister David Cameron gave his blessing to UKSB, and got the Department for Business, Innovation and Skills to subsidise them. This helped the company secure a license from the International Seabed Authority (ISA) to harvest polymetallic nodules – tennis ball sized lumps of metal rich with copper, manganese, cobalt, titanium, and crucially, rare earth elements – in the Clarion-Clipperton zone of the Pacific Ocean.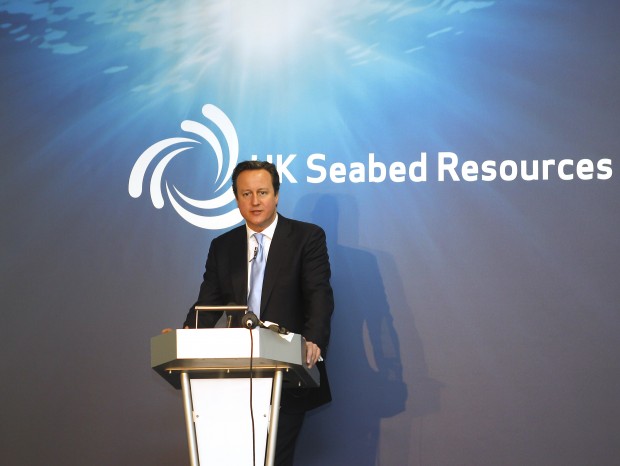 And according to Cameron in a speech he gave at the company's launch at Excel London, the seabed mining industry for rare earths and the metals around them could be worth up to £40bn to the UK economy over the next three decades, with jobs being created in cities like Portsmouth, Plymouth, Bristol, Liverpool and Aberdeen as demand increases for seabed mining equipment.
Along with the UK, the United States and Australia have also tried to get ahead of the pack. Fearing the export restrictions would cripple their army as all of their military equipment relied on REEs from China, Bloodworth says:
"The Americans took the national security view to re-open (rare earth mine) Mountain Pass."
He adds, "It's the same with (rare earth mining company) Lynas in Australia. They're trying to diversify the risk."
Rest of the World's Mining Struggles
But while the UK has joined the global race to overcome China's stronghold, it may not always end happily.
"There are hundreds of rare earth mining projects going on across the world, but only a small proportion will make it to production", says Adrian Chapman, mining analyst at research and consultancy firm Oakdene Hollins.
One such project is the work being undertaken by Tim Worstall, senior fellow at think-tank The Adam Smith Institute and an expert in rare earth metals, who has a customer subsidising his work regardless of cost as "they're desperate to have a supply that does not depend upon China".
But for the most part, cost dictates.
Even established companies are finding it hard. Molycorp – the company involved in re-opening Mountain Pass – are struggling financially, posting a third quarter loss of $69.9 million, compared to a prior-year loss of $18.9 million.
Lynas Corp in Australia have also fared badly, posting a loss of 144 million AUD for the year ending June 2013, compared to a loss of 88 million AUD the previous year.
So while the West battles to topple China, the world's rare earth market leader will, for the foreseeable future, continue to export the majority of the world's rare earth metals. And it will do so with similar restrictions.
Which begs the question, will current quotas meet future demand?
"It doesn't look like it", warns Chapman. "Not as far as heavy rare earths are concerned anyway, especially if demand for technology continues to grow."
[/two_third] [one_third_last]
Related Content
[button color="blue" link="http://buzz.bournemouth.ac.uk/battle-rare-earth-china-vs-world-homepage" size="medium" font="helvetica" align="center"]Home: Battle of Rare Earth[/button] [button color="blue" link="http://buzz.bournemouth.ac.uk/rare-earth-metals-uk-company-adds-new-dimension-market/" size="medium" font="helvetica" align="center"]Listen: Changing the Market[/button] [button color="blue" link="http://buzz.bournemouth.ac.uk/rare-earth-metals-uk-public-say" size="medium" font="helvetica" align="center"]Watch: Public Have Their Say[/button] [button color="blue" link="http://buzz.bournemouth.ac.uk/map-rest-world-row-rare-earth-projects" size="medium" font="helvetica" align="center"]Explore: China's Challengers[/button] [button color="blue" link="http://buzz.bournemouth.ac.uk/how-china-built-its-rare-earth-empire" size="medium" font="helvetica" align="center"]Timeline: China's Empire[/button] [/one_third_last]