[divide style="3″]
[divide style="3″] [divide] [two_third] The Homeless Goal takes you on the journey of Carlos Guzman and Priscilla Ibacache who have overcome social vulnerability to represent their country at the
Homeless World Cup
.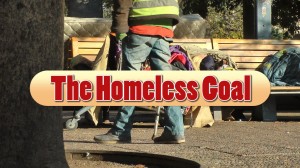 Carlos and Priscilla are just two of thousands of people in Chile that have benefitted from a social program called Futbol Calle.
The start of the documentary begins in Santiago, Chile where the Futbol Calle headquarters is located.
Poznan then takes centre stage as it hosted the 2013 Homeless World Cup.
It is in Poland where you learn more about the lives of Carlos and Priscilla.
To watch the trailer before taking in the whole film, then just click here.
You can also learn more about what Futbol Calle do by clicking this link.
Clicking audio will provide knowledge on how the Homeless World Cup started and  for everything you need to know about the Homeless World Cup, take a look at the interactive map.
[/two_third]
[one_third_last]
Tweets by @TheHomelessGoal
[/one_third_last]