Ben Affleck's Batman has already gotten off to a bad start, with his mopey caped crusader already spawning a "Sad Batman" meme.
This is far from the first hiccup in superhero movie history. It's not even Ben's first.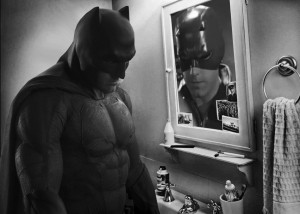 1. Bat Nipples and Ass: Batman and Robin

This film was a complete train-wreck from the start.
With Bane as a dim-witted chauffeur to Uma Thurman's more than camp Poison Ivy and the infamous Bat Credit Card, this film nearly killed the franchise.
2. Dare Devil

Ben Affleck does not have a good track record with superhero films.
The last time he became a masked crime fighter in the timelessly terrible Dare Devil, he and Electra, played by the passably competent Jennifer Garner, expressed their sexual tension in a playground.
3. Hulk

Hulk (2003) has been described as boring, long-winded, and pretentious.
These are not words that should be used to describe a superhero movie. Even director Ang Lee regrets the mistake in tone.
4. Ghost Rider 1 & 2

Nicholas Cage is undeniably a legend of cinema.
From an Oscar-worthy performance in Leaving Las Vegas to the less than fantastic remake of The Wicker Man, he has a considerable history.
Ghost Rider sits somewhere in the area between regrettable and shameful.
In the words of the film itself "Is this thing ever gonna end?" "Not even close." "I sure wish this thang coulda turned out different."
Still, it managed to get a sequel…
5. Catwoman

This film seems confused. Is it a comedy or an action movie?
Halle Berry, another Oscar winner on this list, was nominated for a different award for this motion picture – the coveted Razzie.
To her credit, she did collect it in person.
6: Superman Returns
Superman abandoned his son. That is the message in this masterpiece.
A film described by Roger Ebert as a "glum, lackluster movie in which even the big effects sequences seem dutiful instead of exhilarating".
He is quite frankly being kind. This movie was to be a "sequel" to the classic Superman 1 and 2, ignoring the abominations that 3 and 4 truly were.
So, in a way it got something right.
7. Captain America (1990)

Captain America has been a runaway success for Marvel.
Chris Evans (not the ginger one) has made the role his in every way and has made the most patriotic of propaganda pieces a truly wonderful character.
There was however a previous attempt at making a Cap film, and it was less than wonderful.
It plays like an amateur tribute film recorded on your parents' old video camcorder.
8. The Amazing Spider-Man

Technically a TV pilot, Peter Parker first showed up in live action as your friendly neighbourhood Spider-Man in 1977.
The entire thing came off as comical in every way, with Stan Lee calling it "too juvenile" – a controversial statement given his credit as script consultant on each episode.
The limitations of 1970's special effects made the production feel like a porno without the sex.
9. Ultrachrist

This one is just incredible. It deserves a mention for its bizarre beauty.
Truly the Citizen Kane of superhero movies.