The flash mob of bees on Bournemouth University's Talbot campus has terrified and entertained students and faculty.
BU Estates department have cordoned off the area, and have an expert coming to assess the situation.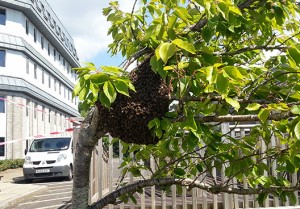 But bee-havioural ecologist David Lawson says that a policy of live and let live may be worth following.
"It's better just to leave them because it is a temporary thing anyway, they can be removed but it will probably just cause more fuss."
The bees are not forming a hive on the tree outside Weymouth house, they are just making a pit stop as they find a suitable location for a new hive.
"The queen will lay some eggs for younger queens to develop, and then she'll leave with about 50-80% of her colony and swarm to go find a new nest."
The current location is just a lookout post from which the bees can look for a good place to form a cluster or a bivouac, and there will be more of these around Bournemouth.
The bees are currently less dangerous than they would be if they were near a permanent hive.
"They are not actually protecting any of their young, you would have to be pretty annoying to get them riled up"
Watch the state of the swarm live.