The Sun recently informed the British public that Pizza Express has been using halal meat on its pizza, but what is it and how is it any better or worse than the meat industry in the west?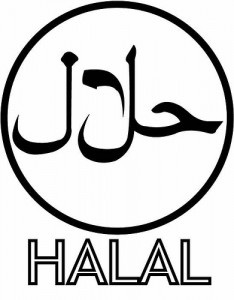 Halal is simply any object or an action which a Muslim is allowed to use or engage in, according to Islamic law. Generally speaking everything is considered halal unless the Islamic scriptures say otherwise.
So where alcohol is not halal (haraam), coffee is.
What is or isn't halal can be confusing for non-muslims, and if no halal option is available, then non-halal meat is permitted.
Halal meat is generally meat that has been slaughtered by a sharp knife to the jugular without stunning the animal first.
There are other requirements for meat to be halal, but the method by which the animal is slaughtered is the one that is causing the most controversy.
This is different from how meat is slaughtered normally in the West, where the animal is stunned before being killed.
This can cause concern for some who care about the health and wellbeing of the animals killed for their meal.
Many of the organisations in the UK that do provide halal meat, such as Subway, do stun the animals prior to killing them in order to comply with EU regulations.
The British Veterinary Association (BVA) says it believes "all animals should be effectively stunned before slaughter to improve the welfare of these animals", while the RSPCA says it causes "unnecessary suffering".
The Farm Animal Welfare Council said chicken and turkeys were likely to be conscious for up to 20 seconds after a transverse incision is made across their neck.
"Such a large cut will inevitably trigger sensory input to pain centres in the brain," the Council said.
If you are interested in seeing halal chickens being slaughtered, this video may help you understand the process better.
WARNING: CONTAINS GRAPHIC CONTENT  
http://youtu.be/89tnJquFXFY?t=1m25s
Compared to intensive factory farming; however, is this any more cruel?
In the egg industry for example male chicks are minced alive because they aren't useful for the production of eggs.
If you have the stomach for it, here is a video of the process.
WARNING: CONTAINS GRAPHIC CONTENT
http://www.liveleak.com/view?i=ee6_1391310852