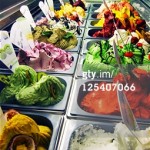 A new dessert shop in Bournemouth has attracted complaints from its neighbours for being too noisy.
'Sprinkles', a new Gelato shop which opened on Holdenhurst Road has been popular with Bournemouth residents; but not with its neighbours.
Holdenhurst Road resident Julie Lium was one neighbour disturbed by the shop's busy demand and open doors.
She said: "The music is way too loud. We talked to the manager and he said he will put it down".
The manager of Sprinkles has said noise complaints will be taken into consideration.