Bournemouth Borough Council will hold a wreath laying ceremony for the 70th anniversary of D-Day after protest from veterans.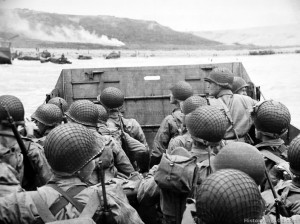 Speaking to the Daily Echo on Saturday, the council originally held no plans to mark the event but Bournemouth's new Mayor Councillor, Chris Mayne requested that an event take place.
Veterans and their relatives are invited to join the Mayor in laying a commemorative wreath at the war memorial in Bournemouth's central gardens at 11AM on Friday 6th June.
Cllr Chris Mayne said: "D-Day was a historic point in WWII, I will be holding a commemorative event this Friday to recognise the contribution that the local residents made to Operation Overlord and Neptune and highlight the bravery and sacrifice of our young men as they fought to liberate Europe.
"This is one of the first events of my Mayoral year and I feel honoured to commemorate it in this way."
Bournemouth's D-Day local heritage exhibition will be moved from Bournemouth Central Library to the Town Hall where people will be able to view newspaper reports from that period.
Poole Council will also be holding a commemoration Ceremony of their own. The council has announced that there will be a memorial service on the Quay and wreaths will be laid on the water at Old Harry Rocks. Poole's arts and museum services have also collaborated on a project entitled: 'We'll Meet Again, Don't Know Where, Don't Know When: Voices of Departure from Poole', a project marking the D-Day Anniversary.
Poole Councillor Xena Dion said, "Poole played a vital role in the Second World War as the third largest embarkation point for troops involved in the D-Day landings. It is important that we continue to recognise the contribution that was made that day."
Canadian war veteran Eldon Roberts, 91, has lived in Bournemouth since 1948 and fought on the first day the Allied Forces landed on the beaches of Normandy. He said: "People who should be doing something [to mark the anniversary of D-Day] are just losing interest. It's a one off thing, we all put our lives on the line and it ought to be recognised."
"There was a time when it would have been upheld but new people come in and they've got not interest, they don't know what it's all about and they've lost touch with it I think."
To mark the 70th Anniversary of the D-Day landings, radio bulletins from "Radio D-Day" have been re-released. The bulletins were originally aired in 1994 and featured broadcast journalist Mel Bray recreating news reports from the days leading up to the Normandy landings and can be found here.
Listen to the full length interview with 91 year old war veteran Eldon Roberts below.
You can also listen to our interview with Bournemouth Mayor, Chris Mayne below. 
Updated at 4:00 pm