Dorset environmental officers and residents claim the introduction of a 5p carrier bag charge will be insufficient, or even adverse for the improvement of the coastline's ecological state.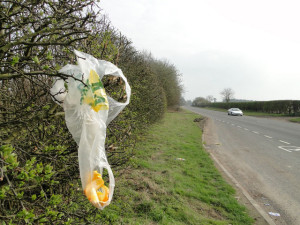 Following the Queen's speech, it has been announced that a bag levy, charging 5p per bag, will be implemented in the UK by October next year. Daily Mail's six-year 'Banish the Bags' campaign has at last become a reality, in the hope of cutting the use of environmentally-damaging plastic bags by up to three-quarters.
 But despite Wales' and Northern Ireland's success with the levy – cutting the number of bags used each year from 130 to 22 – East Dorset campaign group, 'Friends of the Earth' believe the charge will be irrelevant to the improvement of the coastline's current economic state.
Angela Pooley, a campaigner for 'Friends of the Earth', says:
"British beaches have currently got the highest level of rubbish in twenty years. A 5p carrier bag charge is not going to be able to make a difference alone. Especially as our town is full of students, who might not understand the impact of rubbish as much as others."
However, with 70 plastic bags littering each mile of the British coastline, Prime Minister David Cameron expects the bag levy to visibly better the situation, should the public support the new enforcement.
Ronald Whittaker, a member of the Bournemouth Environment Committee, supports the Government's confirmation of plans for the carrier bag charge, but feels there is room for improvement:
"I think it's a good starting point but Dorset's coastline is in such an awful state that the Government should have gone all out on the ban if they are going to at all. They have excluded biodegradable and paper bags – both of which can still harm the environment, and are only including large superstores. It's not enough for a problem this big."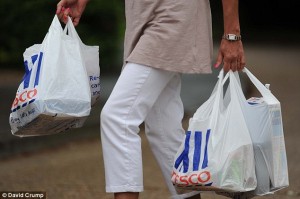 Sure enough, the charge will only apply to supermarkets and other large stores, excluding small corner shops with 500 or fewer employees. The profits made on the levy will go to charities involved in helping with environmental damage caused specifically by the carrier bags.
'Surfers Against Sewage' is a national campaign group which does just that, protecting national marine life including Dorset's coastline. The group has run several campaigns, but hope the carrier bag charge will be a turning point.
Dom Ferris, the group's Campaigns Officer, says:
"We run regular campaigns, such as the 'Big Beach Clean', but they very rarely have long-term positives for beaches. We need a sustainable and consistent method like this to preserve our coastlines and sea-life. If everyone backs the plans, what could go wrong?"
But not everyone does. 82-year old Bournemouth resident, Rose Jupp, has lived in Dorset her whole life and believes the carrier bag charge could in fact have an adverse effect on the town's environment. "The population of our town is overrun with students. They aren't the type of people who are going to go and buy themselves an environmentally-friendly cotton bag to save money", she says, "and they're also not going to pay the 5p. They will just drop their litter on the floor, instead of holding it in a carrier bag until they find a bin".
And she is right. 20-year old Bournemouth University student, Gino Meeajaun, suggests the 5p carrier bag charge may actually worsen the litter problem in Bournemouth. "If I don't have a carrier bag and there are no bins near, I will hold my hands up and say I will sometimes drop my litter on the floor. I usually use carrier bags for holding my rubbish until I find a bin, and obviously the bag goes in the bin too."
Nonetheless, the bag levy is specifically targeting non-degradable carrier bags (with a 1000-year life), and without providing customers with them in the first place, surely the problem can only get better. Ronald Whittaker, Bournemouth Environment Committee Member added, "We know not everyone will be as co-operative as we need, but we have ensured our police are going to be much hotter on litter fines". Looks like some of us might be in for a shock.
Click here for more information on how to preserve your local coastline.