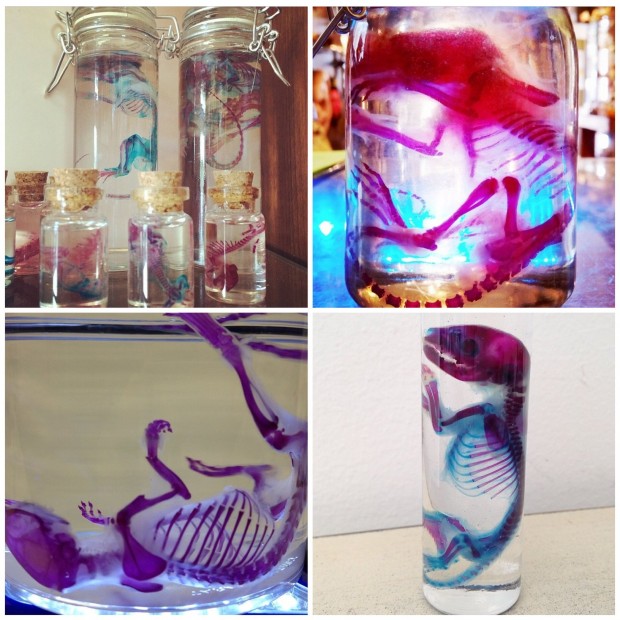 A shop in Westbourne is set to be the first in the UK to launch a new form of taxidermy.
Memento Mori specialises in selling bones and Victorian oddities, but after seeing an increase in demand for taxidermy, the shop is hoping to produce a new style using a method called diaphonisation.
The process involves taking a preserved animal, immersing it in different liquids causing the flesh to go see-through. Different dyes are then added to colour the bones and cartilage.
Owner Mattaeus Ball described the new process as "very modern looking."  He said: "We've literally just teamed up with an American company who have been doing it and they've given us all the ingredients to start doing it ourselves over here."
The boom in people wanting taxidermy items for their home has also meant Memento Mori is thriving. Ball added: "We do get a lot of requests, the main thing people are after is birds in domes. A lot of people like the butterflies in domes as well."
Watch: Mattaeus explains more about taxidermy
Slideshow: See inside Memento Mori
Taxidermy FAQ
What is taxidermy?
Taxidermy is the art form of preparing, stuffing, and mounting the skins of animals.

Why does taxidermy exist?
Taxidermy was very popular in the Victorian era and was used as decor for the home. It is also used scientifically to preserve animals that may become extinct.
What animals are most commonly preserved by taxidermy?
The most common animals that are preserved are deer, owls and birds. However a whole array of animals can be preserved from reptiles to small mammals.
Can anyone practise taxidermy?
No, you have to be a trained taxidermist.
How do you become a taxidermist?
You can train through various organisations in which you will be taught all the skills you need.
Vote
survey tools