Residents of West Howe are being encouraged to attend a meeting this evening to discuss the recent suspension of a bus service to the area.
The Yellow Buses 5b route, which links Bournemouth town centre to West Howe, has been suspended in the evenings after 6pm since April, following a spate of criminal activities.
Among the vandalism and anti-social behaviour reported included the firing of an air gun at one bus, whilst a bed was dragged out in front of another one. Other incidents also included other objects such as eggs and stones being thrown at the buses.
In total there were ten incidents listed by Yellow Buses, the company that runs the service, over the past year.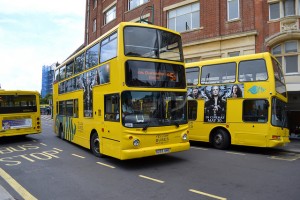 The meeting at the Henry Brown Youth Centre in Cunningham Crescent was organised by Bournemouth Council and Dorset Police and will be attended by Andrew Smith, managing director of Yellow Buses; he will be discussing with local residents about the possibility of resuming the service along Montgomery Avenue in West Howe.
Councillor Jane Kelly, cabinet member for regeneration, is calling for as many people to come along as possible, and said that the decision to suspend the service was made with the safety of employees and passengers in mind.
"It was making both the drivers and the management of Yellow Buses feel very comfortable and probably wasn't very nice for the passengers either."
Cllr Kelly also said that it had been hoped that by taking the bus service away, the criminals involved may have come forward to confess to their actions, but no one had admitted to the vandalism.
"We're really hoping that people will come out and show their support to Yellow Buses, for the council and for the police to make sure this doesn't happen again, because we want our buses to be going along in West Howe; they're really, really important."
If, after tonight's meeting, assurances will be made by local residents that no further damage will be made to the buses, and that there is a lot of support for bringing the evening service back, then a decision will be made in the coming days as to whether it will be brought back permanently.
Further information about the meeting can be found at http://www.bournemouth.gov.uk/NewsEvents/News/June-2014/Yellow-Buses-to-meet-West-Howe-residents-to-discuss-suspended-service.aspx