UKIP parked its tanks on the lawns of the three main parties this morning. All turrets point to the General Election in May. At the helm is Nigel Farage, wafting a purple beret, a pint of Bombardiers and a packet of pork scratchings defiantly in the faces of Ed, Dave and Nick. The "peoples' army" has elected UKIPs first Member of Parliament, and has thrown down the gauntlet in the opening bout against the big three. This is a very British revolution. But will purple fever play political havoc on the blue beaches of Dorset?
He's as British as Marmite and just as divisive, but nevertheless today Nigel Farage became leader of a party with a parliamentary voice. Eating into key Labour and Conservative margins, and reseating Clacton MP, Douglas Carswell, in a headline-grabbing shade of plum.
"This is an alarm clock moment. It is a stark message", stated Conservative Chairman Grant Shapps, after being rudely awoken by celebratory UKIP chimes in Clacton. UKIP also proved a threat to the established parties in the Labour-held district of Heywood and Middleton, Greater Manchester. A buffer of 600 votes helped Labour retain the district against a formidable UKIP showing, leaving a bad taste in the mouths of those who questioned the party's ability to compete in a centre-left stronghold.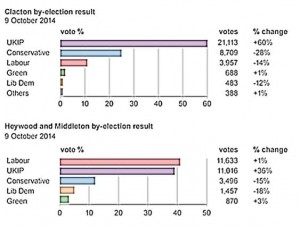 Now a report examining the geopolitical shift in votes to UKIP suggests critical gains could be made in the districts of Dorset. The report issued by the Fabian Society coupled data from the 2010 General Election with the demographics of constituencies to index regions by their probability of UKIP gains. The report, "Revolt on the left," concluded that the area of Dorset North was at moderate risk from UKIP, while Dorset Mid, Poole North and Dorest West are at serious or critical risk. Pointing to traditional tory terrain where the blue vote could be undermined, it concludes that upset from the UK Independence advance could prevent the Conservatives from forming a coalition in 2015. Nigel Farage is relishing the opportunity to disturb the red-blue revolving door of Westminster.
Bournemouth West MP, Conor Burns, put tact to one side to tweet about his former colleagues re-election. Left bewildered by recent UKIP support in the Clacton and Heywood and Middleton by-elections, Conor Burns, has gone on a twitter offensive ahead of the next by-election in Rochester. "What total bollocks" he tweeted, accompanied by a link to an article claiming that UKIP have a 13-point lead over the Conservatives in the region.
"I'm quietly confident that I'll be elected as MP for Christchurch", UKIP candidate for Christchurch, Robin Grey told Buzz. "I've been holding public meetings every week and the feedback has been promising. I think we could win a few seats across the county.
"Clacton represents a nationwide tipping point for UKIP. The Liberal Democrats don't stand and chance and people are finally seeing us as the alternative vote. We have for a long time stood for a politics of common sense, and we stand against the self-serving politics of the elite."
Though the Fabian Report and the current political atmosphere only serve to bolster his anti-establishment brand of politics, Nigel Farage can't light up a celebratory cigar just yet. A man, who revels in his own foibles, delights in the eccentricity of his party's members and in a position to make hollow promises, is a sizeable threat to traditional discourse. Whether or not UKIP deals a considerable blow to the main three parties, UKIP are holding many cards close to their chest. Will UKIP create history at the general election? Their hand will be revealed in May…