The players sit firmly in their seats, every muscle in their body clenched. Sweat is pouring down their faces but they make no effort to wipe it. Instead, their hands remain clasped tightly around the sides of their chair.
After minutes of building anticipation, the referee finally launches the rounded ball into the air. Before anyone has time to think, "go", the athletes are in full force moving about the parameters of the room, fighting off their opponents who are trying so eagerly to regain possession of the ball.
Then, out of nowhere, there is an almighty crash so loud that it sounds like a volcano has erupted in the room. But, there are no volcanoes in this town. On the floor, an athlete lies having been violently launched out of his position by another player. Surely, that must be a foul? No. In this game, crashing into people is very much allowed.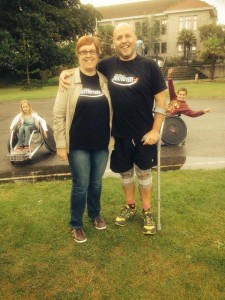 It is this part of the game that is "positively encouraged", co-founder of new local wheelchair rugby club 'The Dorset Destroyers', Sue Coombs, tells me. The club, like the game, isn't for the faint-hearted.
She says, "It can be dangerous, I don't think we can say that it wouldn't be without risk, but a lot of people think 'I already have a disability and if I wanted to play a nice gentle sport I'd choose something else'.
"The fact that it is an aggressive game is even more appealing to the players. Sometimes they might be in pain all the time, so it provides a good outlet for them to vent their frustration and also a good way for them to meet people".
Where did the idea come from?
Sue and her disabled husband Nick set the club up five months ago. After undergoing more than 40 operations and having both kneecaps removed, Nick allowed his disability to prevent him getting involved in physical activities. That was until last summer when he discovered wheelchair basketball. It was this that inspired Nick to say "I might set up a wheelchair rugby club."
A man of his word, he did just that. He knew there were no other clubs in the area (the closest clubs are Southampton and Plymouth), which is why he decided to start Dorset's first wheelchair rugby group.
Two weeks ago the club finally started to roll forward with the introduction of taster sessions to allow disabled locals to get a feel for the sport. So far, six people have joined up with a growing number expected to attend the second event today.
The Mayor of Poole, Cllr Peter Adams, was also among those who came along to the first session. This was followed by an invite for the whole team to have tea at the Mayor's Parlour later in the month.
He says, "This is a very active contact sport and although I found it quite challenging it was very exciting. I hope Poole can get together a team, as it is a great way of meeting new people, keeping fit and having fun."
What is the purpose of the club?
"I want this club to be a family and friends club," Nick explains, "where supporters meet players after matches and we all go to the bar together to have a drink, chat and have fun.
"I want my club motivated and to fight for each other, whether they get into the league team or not. I want everyone to be pushing in the right direction and together. I want The Dorset Destroyers to be the best in the country and for players to be picked for Team GB or the Invictus Games."
The sport itself has gained an outstanding reputation in recent years, largely due to the Paralympic Games and most recently the Invictus Games, which even saw Prince Harry trying his hand at wheelchair rugby.
But, the game isn't cheap. Prices range between £2,500 and £3,000 for each wheelchair, and at least eight players are needed to form a wheelchair rugby team.
"They're like little monsters", Sue says, describing a chair. "Imagine what a normal chair looks like and put a whole sheet of metal around it. When they crack against each other in the hall it sounds like, well… You definitely need ear defenders!"
Relying entirely on donations, the club last week received £2,600 from The Steve Bernard Foundation, covering the cost of one chair. Poole Council also credited the club with a £500 Sports Development Grant.
With estimated total overheads expected to be around £75k, they still have a few more goals to score until the target is reached.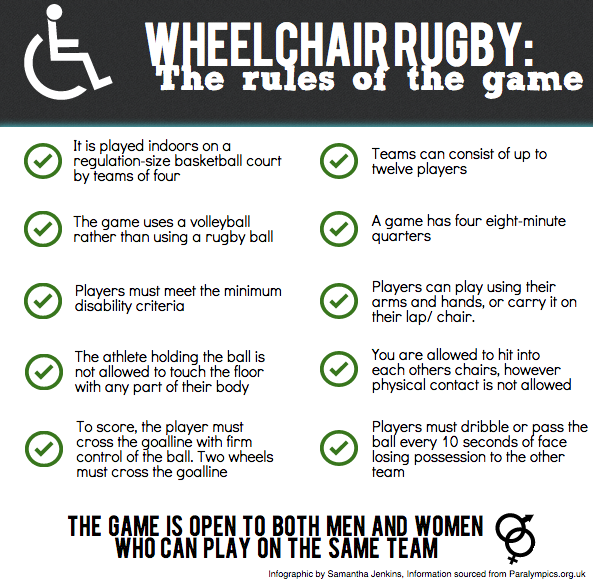 Eventually, participants will be charged membership fees but at the moment sessions are being run by Great Britain Wheelchair Rugby (GBWR) to ascertain the need in Dorset.
Looking to the future, Sue says, "Because the disability requirements are so stringent we would have to build up enough players that fit into that regulation but eventually it is one of our aspirations to create a team in Dorset so we can play anyone in the country."
What happens until then?
The taster sessions are currently being held at The Junction Sports and Leisure Centre in Broadstone to gauge the interest across Dorset.
The next stage will be to use the leisure centre as a place to teach those interested how to do coaching and the basic rules around the game.
Sue adds, "A lot of our players are already wheelchair users, so they can come along in their own chairs and we can give them some of the basics to keep the energy going. We have so much momentum at the moment and we don't want to lose that while we are waiting."
You can see a list of existing clubs in the UK on this map here: