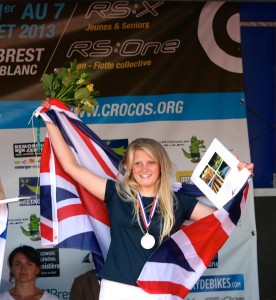 Three-time Youth World Champion windsurfer Saskia Sills is bracing herself for her first ISAF World Cup as a senior.
Saskia, part of the 'British Sailing Team' windsurfs competitively in the RS: X class, which includes a 2.86 metre board and an 8.5 metre sail.
After watching her brother Sam compete on the water, Saskia, along with her twin sister Imogen, took up the sport in 2005 and have been racing competitively ever since. "My brother is my hero," said Sills. "I used to follow him around, copying everything he did".
At eighteen years of age, Saskia lays claim to some outstanding feats having won the Under-15 World Championships in 2009, when she was just 13 years old, continuing on to win the Under – 17 and Under – 19 World Championships in 2011 and 2012 respectively. Her successes earned a nomination for the 'BBC Young Sports Personality of the Year' in 2012, losing out to Paralympic Gold Medallist Josef Craig.
In January 2015 Saskia will take part in the ISAF Sailing World Cup in Miami. 'The World Cup' is a major occasion for Saskia for more than just its prestige as a competition, as it is her first major tournament since being diagnosed with coeliac disease in December 2013. Despite twin sister Imogen being diagnosed with the disorder when she was just 3 years old, Saskia, until recently, showed less obvious symptoms, but shared a gluten free diet with her sister all of her life. The diagnosis came as somewhat of a relief as Saskia had been struggling to maintain her phenomenal form and began to see a decline in her performances. Until her diagnosis the reason for her decline was unknown.
After a difficult year, Saskia is now living in Bournemouth and trains regularly at the 'National Sailing Academy' in Weymouth as she prepares for Miami in January.
Click here to see a slideshow of Saskia in action.
Click here to see a Q & A with Saskia.