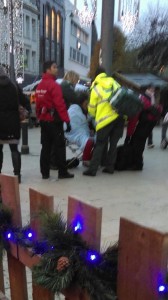 As temperatures drop and hearts fill up with Christmas cheer, Bournemouth's homeless are overlooked for another festive season, with upsetting consequences.
Big Issue vendor Kieran Ebbenden, 31, was selling copies of the magazine in Bournemouth Square at around 3pm on Thursday during the Christmas fair, when he suffered an epileptic fit. St. John's Ambulance crew were on the scene within minutes to treat him but when they tried to take him to hospital he refused.
He explained why to me after he had come to, saying that, "there would be no point in me going to the hospital as I do not have the money to get from the hospital back to the town centre. I may be homeless but this place is all I know, we who live on the streets have our own little forgotten community around here".
He told me he felt let down by the systems in place, saying that, "the way things are, staying the night at a shelter is out of the question as they are simply too overcrowded and even if you do manage to get a bed, they charge you £3 which can sometimes take you days to raise. I cannot access medication for my condition under the NHS as I do not have a fixed address".
Bournemouth Borough Council were approached on the matter but declined to comment.
To donate to money or goods to the homeless please visit homelessuk.org/details.asp?id=HO1007470 or call 01202 587160.
Related Articles
Options for homeless people in Bournemouth
Interviews with the homeless men of Bournemouth