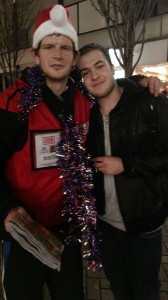 I asked three homeless men a number of questions concerning their time on the streets.
How long have you been homeless for?
Lee, 40: Hard to keep track, but around eight years now.
Kieran, 31: Since I was twenty-three so around eight years.
Frank, 29: About two years.
How did you become homeless?
Lee: After coming out as gay, my family wanted nothing to do with me and was forced to fend for myself really.
Kieran: My parents died when I was fifteen and since then I've been in and out of care and halfway houses until I decided to go it alone.
Frank: I lost my job and partner and was essentially left with nothing.
How difficult is it to find a bed for the night?
Lee: Not worth the effort most of the time. You have to sort a spot by 11am at the shelters and they won't even consider you if you haven't got a case worker with the council. That just shows the extent of the problem.
Kieran: The way things are, staying the night at a shelter is out of the question as they are simply too overcrowded and even if you do manage to get a bed, they charge you £3 which can sometimes take you days to raise.
Frank: Some days are better than others but shelters are a waste of time. I'm usually better off saving up for a bed and breakfast.
Do you think the system is doing enough to assist people like yourselves?
Lee: Not in the slightest. Do you think if they were I'd be here singing Bob Marley for change?
Kieran: Far from it. The Big Issue is a great scheme and all but what you need to bear in mind is that we may be selling them for £3 but we pay £1.50 per copy.
Frank: You are joking right? They've done nothing for me thats for sure!
Related Articles
Options for homeless population of Bournemouth
Homeless "forgotten community of Bournemouth left out in the cold