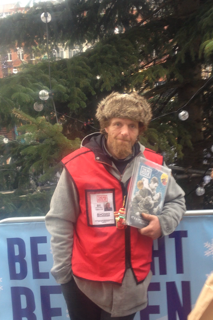 Homeless people will only get shelter this Christmas if the temperature drops below freezing 
Many of the homeless may therefore be forced to sleep on the streets over this holiday.
Big issue seller, Ron Lord, 42, says "The council should reopen the night shelter. The nearest one is now in Southampton. The only way we will get shelter this Christmas is if the temperature is below zero for three consecutive days. It is ridiculous. But at least me and my brother will definitely have Christmas dinner as many Churches will be serving it."
St Paul's Church was once a shelter but turned into a hostel in 2013 which many of the homeless oppose. The maximum stay is six months and they charge £3.30 per night.
Council representative, Deborah Jones, said "The Rough Sleeper team will operate a severe cold weather temporary shelter at the YMCA's gym in Bournemouth once the temperature falls below zero, so it is a question of the team keeping an eye on the temperature gauge."
"However, there is a Sleep Safe scheme which is run by Bournemouth Churches Housing Association operated from St Paul's Hostel. Last year BCHA used St Swithun's Church and it ran from early Dec for three months."
Bournemouth has an increasing amount of homeless people. From a study in 2011, there were 1310 rough sleepers. This is 67% higher than in Bradford which has a population three times higher.
Read more:
Helping Bournemouth's homeless this Christmas
Buzz asks for local opinions on homeless issue