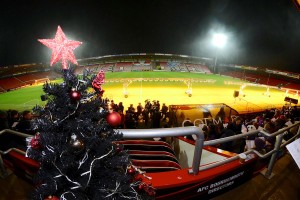 The Christmas Carol Concert, hosted at the Goldsands stadium in Bournemouth on Tuesday evening spread to joy to all of it's attendee's, but who exactly organised it? And what does it support? Buzz investigates the organisations behind the Concert.
The three main organisers of the concert are three charities; Hope, Tearfund and Sports Chaplaincy UK. The Winton Salvation Army and the Bournemouth Churches Housing Association also both helped organise and offered support during the event.
Hope is a charity which brings churches together to transform communities. Hope was started in 2006 and hoped 500 churches would take part, a total of 1,500 signed up in the first year. Tearfund are a charity organised to release people from both material and spiritual poverty. Tearfund was formed as a registered charity  in 1973. Tearfund claim to have saved around 15 million peoples lives, by tackling poverty all around the world. Sports Chaplaincy UK is a charity which represents over 300 sports chaplains in the UK and Ireland. Their vision is "To initiate, nurture, support and resource high quality chaplaincy to the world of sport." Sports Chaplaincy UK was registered as a charity in 1991. The Greater Love charity also helped to organise the event, supplying the club with helpful programmes of the Carols that were sung and some background information to those involved and information about the Christmas Truce.
The Salvation Army are a charity that helps people in need, largely with homelessness but they cover a lot more. There aim this Christmas is to help and save people who will be spending Christmas on the streets this year. The Salvation Army have drop in centres, addiction assistance centres and they assist by sourcing non-perishable foods for those who have nothing. The Bournemouth Churches Housing Association also help with assisting those without homes, they also source non-perishable foods, they are also a church-run charity. The Christmas Carol event raised £895.07 for the BCHA (Bournemouth Churches Housing Association).
The charities:
More information:
AFC Bournemouth hosts Christmas Carol Concert
The 1914 Christmas Truce: A background