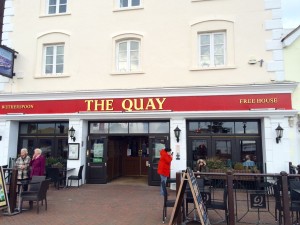 What is your favourite Christmas drink and what pub in the Quay sells it?
Sharon Snellin, 54, housewife:
"I love a mulled wine, I can't have too many though. But there's a new drink I've found that they sell at Custom House, called Winter Pimms it's delicious."
Do you think the pub prices of The Quay are appropriate or extortionate?
Sam Cannon, 26, Property Manager:
"I think wherever you go nowadays the prices have some how shot up. I think the pubs here are at good value, but they're are some that a lot higher than others. But I rarely go out any way over Christmas so that I can save for New Years."
Have you got any plans for New Years Eve?
Jeffrey & Lucy Wilitshire, 74 & 69, retired:
"Normally every year we have the kids and grandchildren come over for a party. But now that they're all old enough, our son suggested going to The Jolly Sailor. As they're having an A-List, red carpet themed event. We do love a fancy dress part."
What is your favourite pub food at Christmas?
Annie O'hare, 52, Office Worker:
"It has to be Christmas Turkey. Never as good as my mother use to make it. But if I go out to the pub for a Christmas dinner, which is very rare, it has to be Christmas Turkey."