In a recently distributed online survey carried out by myself, I asked the local residents of Bournemouth questions about how much they give to the buskers on the street and contribute to homeless organisations such as the Big Issue.
When looking at the results, displayed below, it is clear that younger people are more giving to the busking individuals and homeless people.
The first question asked respondents, after giving their name, age and where they live, to say if they do or do not give to buskers in general.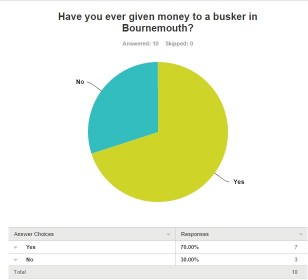 Out of the 10 young respondents, 70% of them had given money to a busker in Bournemouth.
Second, the survey asked them to write specifically how much money they had given to local buskers.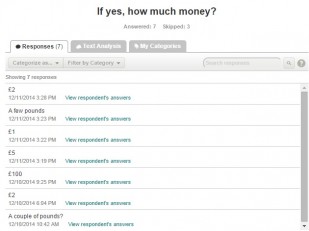 The majority of the respondents said that they had donated a couple of pounds, with one teenager wrote that he had given £100 on a previous occasion.
I then asked the respondents to choose if they think that busking is an issue in Bournemouth: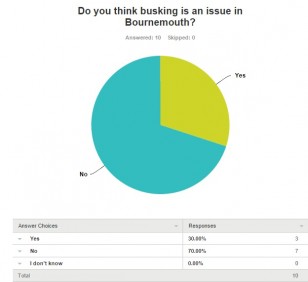 Again, 70% of respondents voted that busking is not an issue in Bournemouth.
Question 5 then asked the teenagers to tell me if they had ever given money to help homeless organisations such as the big issue.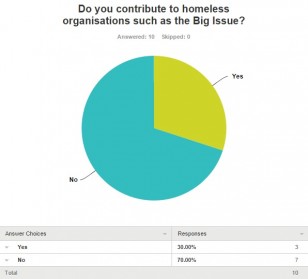 The results showed that only 30% of teenagers asked give to the Big Issue and other homeless organisations.
The last question in the survey then asked to write a written comment in response to the question 'Do you think it's our responsibility to give money to buskers and why. The responses were mixed: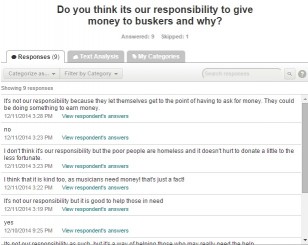 Most of the comments read that it is not so much our responsibility, but it is a good act of people to help out those in need and support them by giving.
one response, from Max Clemens, 18, Wimborne said: "I think homelessness is a problem and if we can give help we should but probably to organizations rather than buskers directly as you don't know who to trust."
However most of the teenagers have not given to organisations, and instead to buskers, implying that possibly teenagers do not know much about the homeless organisations around locally.
Looking at the evidence above, it is clear, in comparison with the claims made by buskers in Bournemouth, that older people are not so giving this time of year, and it is more the youth of Bournemouth who are helping those in need.
You can see a picture gallery and video of buskers in the local area here.
To see my article about the buskers in Bournemouth, click here.