Let Them Be Young: Outlining the problem
Leather bodycon skirts, studded high heels and padded lingerie are all products you would expect to see hanging in a women's high street store, not something you'd stumble across whilst in the children's section. In the last five years, there has been a sharp increase in products marketed in large retail stores that are deemed highly inappropriate for young girls to wear.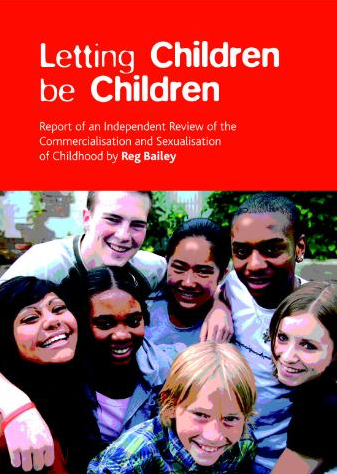 Four years ago, to try and bypass the issue, the Department for Education released the Bailey Review – Letting Children Be Children. The government believed that children of the United Kingdom were living in a pressurised environment, conditioning them to 'grow up too quickly', and requested guidance from the Chief Executive of Mother's Union, Reg Bailey, on how to address the sexualisation of childhood and the ways in which it could be resolved. In total he came up with fourteen various recommendations that included the introduction of age restrictions on music videos and Internet censorship of adult online material.
The sixth recommendation was to develop a specific code of good practice when retailing to children. This meant restrictions on all products for girls including clothing, accessories, underwear, bikinis, high heels, slogans and even certain fabrics used to make them, such as lace. Bailey stated that 'parents want age appropriate clothes, not scaled down versions of adult fashion'.
But in the time that has passed not a great deal has changed, and retailers are still selling clothing that many people feel are too 'explicit' for children. Searching through racks of clothes for her kids, Ruth Lopardo realised that clothing made for girls these days were one of two things; either highly gender-stereotyped or extremely over-sexualised.
Most of the clothes that are marketed on the high street towards girls are so stereotypical, they are pink with 'little princess slogans' or are highly sexualised, and that really concerns me. From about eight or nine, up to when a child is fully grown and can wear normal clothes, there's a real scarcity and a lot of what there is, is just scaled down adult clothes."
Fed up with being offered minimal choice, Ruth decided that she would fill a gap in the market with the creation of her Newcastle based business – 'Love it Love it Love it'. However, knowing this wasn't enough to make a substantial impact on the issue, Ruth and her business partner Francesca Aitkin initiated their first campaign 'Let Clothes Be Clothes', which aimed to create a movement here in the UK.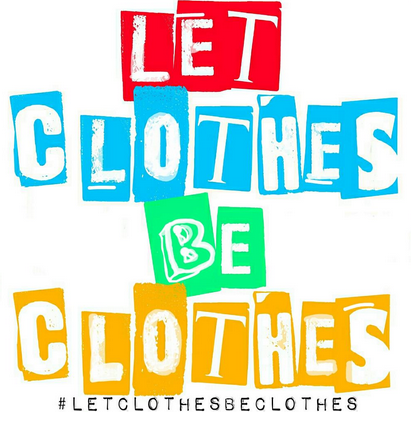 One of the most recent shops to feel the wrath of Ruth's campaign was retail giant John Lewis. Just before Christmas during the hype of 'Monty the penguin', Peter Jones' company sent tongues wagging when they began advertising bras for girls as young as two on their website. Parents and various campaigners like Ruth from around the country complained, and when contacted the store stated that there had been 'an error in loading the item onto our site, which meant it was labelled incorrectly by age and not by size'. Nevertheless, the product description remained the same for some time, until days later when they altered the name of the product from bra, to crop top.
Other leading fashion brands have also come under scrutiny in recent months. Ruth believes that Next and River Island are also in the long list of culprits that aren't adhering to retail codes of practice.
In terms of sexualisation of clothes in the high-street, we see Next as a company that keeps continually being pointed out for over-sexualising girls, and also some of the more fashionable stores like River Island that are aimed at adolescents and young adults and then expand into kids wear. It may be due to a lack of experience in dealing with children."
An aspect that concerns many, especially child psychologists, is the long-term lasting effect that exposure to over-sexualisation has on children. Recent evidence has concluded that there is a direct correlation between clothing and media content, which could cause mental health risks, particularly in adolescent girls.
Ruth was not the only mother to be concerned about the psychological effects that clothing may have on young girls. In October last year, Huffington Post journalist Stephanie Giese wrote an article about how retailers are 'normalising sexy before children even understand what sex is'. Like Ruth, she also had young girls to clothe, so using her position of power as a journalist; Stephanie made the issue a matter of public interest.
"We need to take responsibility as a culture for the messages that we present to our girls and show them that we value their bodies as well as their minds. We need to remember that we are not raising girls, we are raising women."
Back in 2010, Mumsnet, one of the largest UK websites for parents, developed a similar campaign to Ruth and Stephanie's called Let Girls Be Girls. It stemmed from users of the website who were concerned that increasingly sexualised products were affecting the minds of children. Their aim was to challenge retailers and ask them to not sell products that exploit children at a young age.
Five years on and spokeswoman Jane Gentle has said that 'since the main thrust of support, numerous large retailers continue to back the campaign, and along with the support and endorsement by the government's Bailey Review, change can and will certainly be achieved'.
"We continue to talk and highlight key issues as and when users ask them to. The aim of the campaign isn't to demonise any particular person or retailer; it's about joining forces for a change."
Ruth believes that eventually parents will boycott large retailers and turn to independent clothing makers that can be found online on social media or on websites such as Etsy, but she has her concerns over the pricing of unique products.
[divide]
You may also like…