A homeless man in Bournemouth has criticised the Council's current 'your kindness could kill' campaign.
The campaign warns the public to not give to beggars, and instead asks them to donate to an associated appeal aimed at getting homeless people off the streets. During an interview with BUzz, Carl Scott, who has slept rough in Bournemouth for the past 18 months after moving from London, slammed the initiative. "I mean what harm am I doing? I'm not putting a knife to their throats, just saying nice and politely 'can you spare any change?'"
The campaign, featuring posters located in prominent sites around the town, is part of an appeal in co-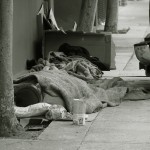 operation with the CRI's Rough Sleeper Team. The charity work in the area to reduce anti-social behaviour and people sleeping rough. Scott, though, says the posters are a "guilt trip".
A spokesperson from Bournemouth Town Council pointed out that "begging is illegal in this country". They added: "Whilst no-one can stop giving money to anybody – it is a free country – it's a perpetuation of the current situation if you just give someone money, they are still on the street."
The Rough Sleeper Team are appealing for donations as part of the campaign. They are "aiming to reach-out to those people and get them off the street because ultimately it's safer and better for them", the spokesperson said.
Bournemouth is not the only town in which the scheme is in place. Liverpool and Oxford introduced it last year.
See also:
Background: 'Your kindness could kill' campaign
Interview – Bournemouth homeless man Carl Scott