[dropcap font="arial" fontsize="24″]P[/dropcap]rotruding ribs. Hollow cheekbones. A severely distended thigh gap. We all think we know what Anorexia looks like. What we don't realise is that maybe weight isn't the issue. LOUISE MCCREESH meets the plus-size models that prove Anorexia is more than just a size.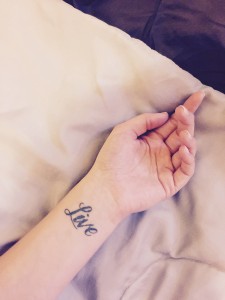 Traced delicately across Heather Hazzan's tanned wrist, the word "Live" sits spiraled in black italic. For the 25-year-old plus-size model, the tattoo symbolizes both an acceptance of her past, but equally an eagerness to put it behind her. "It's just a reminder to me every day when I look down at it because I spent so long not living," she tells me. "A reminder not to take the day, the world, the moment for granted." From her effortlessly tousled brown hair to her sculpted cheekbones, it's hard to imagine that Heather has ever faced any adversity that would stop her from living life to the fullest. But the American beauty knows all too well what it's like to battle inner demons. For seven years of her life, Heather was gripped in the throes of Anorexia Nervosa, only five of which she spent underweight. Between the ages of 21 and 23, Heather would have to endure life as a plus-size anorexic.
Heather's Anorexia developed at the age of 13 when she decided she wanted to become a model. What started as an innocent diet soon spiraled dramatically out of control, as the illness consumed Heather's life. "I wasn't a woman," she exhales regretfully. "I didn't have my period for five years, my butt cheeks didn't even touch. I didn't have a life. I didn't have a social life or friends or a boyfriend. The only thing I had was counting calories and being smaller." Before long, the five foot eight model weighed just 95 pounds and was facing serious side effects due to malnourishment.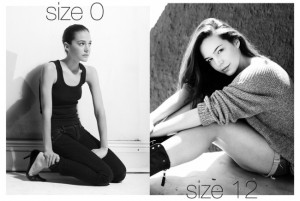 Heather knew she couldn't go on this way indefinitely and took steps towards turning her life around, gaining ten pounds within the space of a few weeks. What she didn't realise is that ten pounds were only the beginning. Over the next year, Heather gained 70 pounds. "The fact I was no longer a size zero made everyone assume I was ok; that they didn't have to worry about me anymore, but I was more depressed than ever," she explains. "Even when I started plus-size work at this weight and was preaching body positivity and body confidence; I just hated how I looked, and I felt like such a hypocrite."  Her body may have recovered, but her psyche remained very much under Anorexia's control. Heather tried in vain to receive professional help for her condition, but soon discovered getting treatment for Anorexia isn't easy when skinny is no longer a symptom.
"The fact I was no longer a size zero made everyone assume I was ok; that they didn't have to worry about me anymore, but I was more depressed than ever."
Sarah Frances Young, a former sufferer and Residual care worker at an Eating Disorder Inpatient clinic, is all too familiar with these struggles.  "There is so little support for people who are weight restored," says the 23-year-old. "I was weight restored and because of that got minimum help. My GP basically said, 'you need to be more underweight before I actually take you seriously and give you the proper treatment." I*EAT's Claire Burgess agrees that the medical community does not offer enough support for Anorexia sufferers once they reach a suitable weight. "Anorexia is underestimated as a mental illness, not only by the public but also by doctors and treatment centres," she explains. "They measure illness on a BMI scale when really the psychological symptoms are just as important to treat in terms of long term recovery."
My GP basically said 'you need to be more underweight before I actually take you seriously and give you the proper treatment."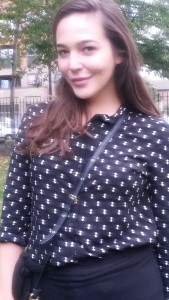 After visiting 13 doctors who failed to diagnose her eating disorder, Heather began to envisage that help was never coming.  "Finally I visited a doctor who had actually gone through Anorexia herself," she recalls. "This doctor sat me down, took one look at me and my notes and said 'Just stop. Stop counting. Stop counting calories.' After that, I finally listened." Armed with an understanding GP and a newfound determination, Heather slowly began to challenge her Anorexic habits and behaviours. "I just needed someone to reiterate how I felt," she recalls. "This doctor made me realise I still had an eating disorder even though I was no longer thin, and that I still had a lot of recovery left to do- regardless of the weight gain."
Heather isn't the first weight-restored Anorexic to struggle to find treatment, and she certainly won't be the last. Criticism of eating disorder treatment is often linked to its failure to sustain support for patients after weight restoration, leaving many anorexics to suffer in silence
Ciaran Newell, a Consultant Nurse at Kimmeridge Court Inpatient Eating Disorder Clinic, has over 21 years of experience with the illness. He believes that the medical community is acutely aware of Anorexia's psychological consequences and offers services to treat them accordingly.  "It's perfectly obvious to [the medical community] that if someone has got a disorder that drives them to be thin; when they start to weight restore they're going to become more upset," says Ciaran. "After weight restoration, a person should remain in treatment for at least 12 months and do some psychological work concerning how to cope with being a healthy weight."
Cognitive Behavioural Therapy is a popular therapy method used to treat eating disorders past weight restoration. Curvy Kate model Alice Jackson, 27, developed Anorexia at the age of 19 whilst studying for her degree. Now fully recovered, Alice credits CBT as an invaluable tool in helping her reach psychological and physical remission from her eating disorder. "CBT gave me a chance to talk about everything," enthuses Alice. "It was so useful in helping me understand my thoughts and behaviours and to work through them. If it wasn't for CBT I think it would have taken me a lot longer to get better."
So why are so many Anorexics slipping under the radar? "Part of the problem is that the media present Anorexics as these really, really thin people that don't eat," says Ciaran. " It would be far better if the image of Anorexia was presented as an illness you can have without having lost a great deal of weight; while still displaying certain thoughts and behaviours."
Heather was one of many sufferers who didn't feel sick enough to warrant help, but with the correct diagnosis and therapy she was able to fully recover from her eating disorder. "You can only truly recover once your mind and body have both recovered and trust each other again" she explains. "It's a process and it's incredibly difficult, but I can say I'm now 100 percent recovered, which is something I never thought I would be able to say."