The LGBT campaigns were the biggest movements; with fights for rights, equality and acceptance. Despite gaining social acceptance, homophobia is still at large.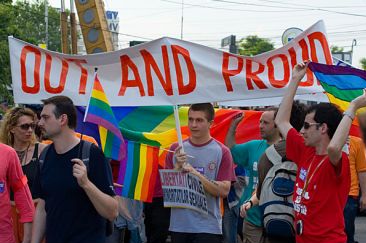 1 in 66 people in the UK identify themselves as either gay, lesbian or bisexual. Reports from the Office for National Statistics (ONS) survey showed 1.6% of UK adults aged 16+ gave their sexual identity as lesbian, gay or bisexual in 2013.
In this generation being gay, bisexual or transgender is no longer a crime in the UK and more than half of the world's population. Homosexuality has evolved over the years from being illegal in every single country to becoming a non-criminal matter in 113 out of 196 countries in the World. Civil partnerships have been enforced in some parts of the world, with South Africa as the only African country to allow it.
Most people now find it easier to expose their sexual orientation openly. Tony Butchart-Kelly spokesman for The Albert Kennedy Trust stated: "More young people in this generation are coming out. People feel they can come out without worrying about being judged."
Billy Clarke, member of Over the Rainbow an NHS funded organisation advocating for the LGBT said: "In this generation its easier to come out, people as young as 12 now come out to their parents."
The laws against homosexuality started changing in the late 1980's into the 90's, with the first ever LGBT societies emerging in the USA and the UK in the 1990's.
The change in law in most countries on homosexuality, does not mean individuals from different faiths and backgrounds have accepted it. Billy Clarke said: "Rejection usually happens in strong faith families, such as Muslim families, Catholic and other faiths to be honest, unfortunately this has led to conversion therapies such as praying your gay away."
Robert Smith who identifies himself as gay said: "I have told my family I'm gay and they did not take it very well, because they are Christian. I don't feel accepted as a gay person in society now, because there are still people out there who are homophobic.
The other day someone shouted out "gay" to me. I looked at him like he blatantly stated the obvious, and he was obviously homophobic and trying to hurt me by pointing out my sexuality."
Most families, especially parents find it hard to comprehend with their children's sexualities reject them. Some youths get rejected and are sent to live on the streets. "The Albert Kennedy Trust has helped youths who are rejected by their families and made homeless by providing them with accommodation. We work with the local authorities to ensure safety of individuals in hostile situations as they are not always a priority. We currently have a safe house in London where we accommodate these individuals" (Tony Butchart-Kelly)
Most LGBT people feel more confident telling their friends about their sexuality than their parents. Robert Smith and Billy Clarke commented: "Its easier to tell your friends than your family because you can pick who your friends are, not your family."
[one_half]
There are 83 countries in the world that have not yet accepted the LGBT. Governmental legislations in these societies view homosexuality as a criminal offence. Some of these countries have strong anti-gay laws which could result in execution, as homosexuality goes against their faith or beliefs.
Africa has the largest number of countries that have anti-gay laws with 38 out of its 54 countries against homosexuality.
Europe, America and Australasia are the three continents that fully accept the LGBT and have no anti-gay laws.
Russia recently instated laws saying acts of homosexuality are not suitable for young children as it might influence them to think it right. Teachers have been stopped teaching that being homosexual is as normal as being heterosexual.
[/one_half] [one_half_last] [/one_half_last]
In 1982, the Federation of Gay Games (Olympics for the LGBT) was founded to make the LGBT feel more accepted in society and as a form of creating social change. Although they were created for a social change most people are unaware of them as they are not as advertised or as popular as the Olympics. People also think it creates a divide between homosexual  and heterosexual individuals. Robert Smith commented: "It is preposterous! I deem that as segregation. That is borderline sexism. Your sexuality does not determine your athletic ability. I don't see why homosexual people have to be split up from heterosexual people".
Tony stated:
There is a long way to go till homophobia stops. The Albert Kennedy Trust tries to influence LGBT social acceptance and there has been changes.