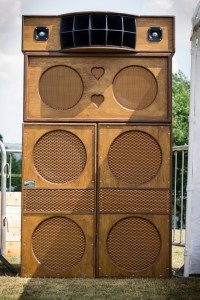 "The legacy of sound system culture is inescapable when it comes to modern bass driven genres. It's imprinted everywhere!"
"It has been a pleasure to play for you tonight and to carry on the spirit of the music I live for over to you. Keep on skanking and give thanks to the most I Selassie." These are the words of Ras Kayleb, MC for Channel One Sound System one of the UK's best known and respected Reggae sound systems as they signed off their set at the New Year's Eve special of South Coast based event Dub Optic. Minutes later, the crowd that had spent the last hour gently vibing to the tender, purifying sounds of Jamaica erupted into a chaotic flailing frenzy as the fast-paced electrifying noise of Drum & Bass bellowed from the speakers. So how do these drastically different musical styles co-exist hand in hand under the same roof and connect with the same audience? The short simple answer is that the soul and fundamentals of sound system culture are embedded deep into the music that dominates the UK club scene today.
Sound systems started appearing in the ghettos of Kingston in the '50s. Crews of people would build these systems from scratch, out of wooden boxes, speakers, generators, turntables and stacks of Rhythm & Blues records to host street parties, attracting huge sounds. As the popularity of these systems increased so did the number of competing sounds, creating rivalries between different systems, most notably between Coxsone Dodd's 'Downbeat' and Duke Reid's 'Trojan'. Having new music was integral to the popularity of a sound and it was this push for fresh sounds that lead musicians to bring their own local flavour to the American imported R&B resulting in the birth of Ska which continued to develop into Rocksteady, Reggae and eventually Dub.
Flash forward to the '60s and the influx of Jamaican immigrants to the UK saw the formation of several local based sound systems.
"If you were West Indian back in the day, you weren't going to be hearing any Reggae in any clubs," recalls Laurie Jago, co-founder of dance label 'Production House Records' and former operator of '6×6 Roadshow' a sound system that had played at the Notting Hill Carnival. "There was nothing on an entertainment basis geared around them so obviously people started to make their own sounds."
Rave culture came to prominence in the late '80s and early '90s and the scene thoroughly embraced the sound system ethos. UK based systems such as Desert Storm and Spiral Tribe began to hold free events focused around the emerging sound of Acid House. Just like Ska developed into Reggae, so did the newly developed electronic styles. Hardcore came to fruition, which was followed shortly after by Jungle. "Jungle is essentially Dub sped up to 170 BPM with old school drums over it," thinks Techno DJ Arcane."
So how has the modern UK club scene been influenced by sound system culture?
"You can see when you go out to a club event, several elements are connected directly to sound system culture," thinks Mandeep Samra, curator of the heritage project 'Sound System Culture: Celebrating Huddersfield's Sound Systems'. "The big speakers, the placement of them, a emphasis on the way sound travels around the place. These are all things that sound men were doing back in the day. The chanting on the mic, just like mic men did over roots music. That style has had an impact on many other genres and the style in which the music is presented."
"The UK club scene is very much dictated by bass," says Arcane. "You can see a direct influence from Reggae and Dub on the dance music coming out of the UK through this abundance of bass."
Whilst the uplifting and cathartic power of Reggae and Dub is unquestionably universal, its journey to the speakers at a bass music event near you can be accredited to one man. David Rodigan MBE. The DJ has been championing Reggae music since the '70s and has been welcomed into the scene with open arms by a new generation of ravers and DJs. "He has an absolute passion for the music and he knows it inside out," says Laurie Jago."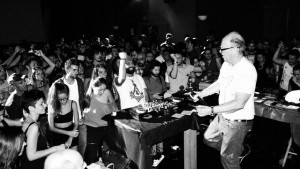 The last few years have seen events such as Bristol's 'Teachings in Dub, Leeds' 'SubDub' and Bournemouth's Dub Optic mentioned earlier, have emerged. These events channel the essence of traditional sound systems to showcase new movements in bass music. "The legacy of sound system culture is inescapable when it comes to modern bass driven genres," remarks Laurie Jago. It's imprinted everywhere!"