As another cancer drug is rejected  by the NHS over funding concerns, LOUISE MCCREESH investigates the elusive new treatment making news through the eyes of a patient trialling therapy drug Kadcyla in the UK.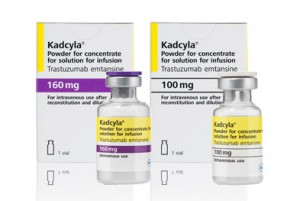 Cancer. Everyone knows someone who is affected. Over recent months, the viral trend of no make up selfies and the fundraising efforts of terminally ill Stephen Sutton have raised millions for cancer research. But what is the true cost of cancer?
Britain's health care service NICE (National Institute for Healthcare and Excellence) recently announced that they will no longer provide funding for the cancer drug 'Kadcyla', deeming it as too expensive. In doing so they sparked a great moral debate amidst the national media, with both supporters and critics of NICE's decision passing judgement.  But what is Kadcyla? And how effective is the drug in treating cancer where other forms of drug therapy have failed? In interviews with Kadcyla drug patient Geraldine McCreesh- a 52 year old mother of four, health care service NICE and Kadcyla manufacturer ROCHE, Woman&home investigates the real controversy behind cancer's newest opponent.
Geraldine McCreesh was diagnosed with Breast Cancer in December 2012. Following her diagnosis, she began a gruelling six-month intensive course of chemotherapy and radiotherapy- only to discover the following October that the cancer had spread to her lungs and liver. "I was devastated", said Geraldine- speaking from her Bedfordshire home. "I had just started back at work and everyone was telling me how good I looked- and I felt it to. When I was told the news, I felt like giving up. After all that- the cancer had spread."
But she didn't give up. Her diagnosis with HER2 tumours meant Geraldine was eligible to trial a new drug named Kadycla- a 3-week consistent cycle of drug therapy. " I was apprehensive about starting the treatment" recalls Geraldine, " but it was the only option I had. I was ensured by my oncology team that the side effects would not be as severe as my previous treatments, so I took sick leave from my job and started the course of Kadcyla in January."
What is Kadcyla?
Kadcyla (trastuzamb emtansine) is the newest cancer drug available on the UK market. Produced by British drug company Roche, it has been trialled in patients with HER2 tumours in the UK since 2010. NICE announced that they would not transfer the Kadcyla cost into the NHS budget- meaning that treatments already financed by the special Cancer Drugs Fund, like Geraldine's would end in 2016.
Cutting costs: NICE vs Roche
So is the responsibility of removing Kadcyla from the NHS treatment programme left solely on NICE's shoulders? Or are the prices set by Roche too high?
Woman&home interviewed NICE's Media Relations manager Laura Gibson. She argued that since the decision was based on the expensive costs of Kadcyla, the drugs companies are ultimately responsible for the decision not to incorporate Kadcyla into NHS treatment.  " NICE have to consider what is best for the NHS and the health of Briton's as a whole," she told us. "We had hoped that Roche would have recognised the challenge the NHS faces in managing the adoption of expensive new treatments by reducing the cost of Kadcyla to the NHS. It is for Roche to look again at their calculations and see if there is anything more they can do to lower the cost."
But is Roche willing to lower their prices? Roche's public relations manager Tina Batchelor said that discounts could be offered down the line in terms of a patient access scheme.  "There will be a committee meeting to discuss the decision on both sides at the end of May" Tina revealed, "where possible patient access schemes will be discussed- although the fixed costs of Kadcyla will not be lowered." Tina argues that the blame of refusing treatment lies within NICE's assessment controls system (QALY) – stating that the model doesn't work for cancer drugs. "Several drugs have been rejected by NICE through the QALY system" says Tina, " so Roche was unhappy with the decision but not exactly surprised. Kadcyla is a much needed drug for woman with breast cancer and we hope NICE will reconsider and a compromise may be reached."
There's no doubt Kadcyla- as it is currently priced would be a heavy financial burden on the already struggling NHS, leading to the ongoing moral question: should the NHS fund Kadcyla?
The controversy
At the end of April Daily Mail writer Jenni Murray wrote a controversial piece for the Saturday Life supplement, where she backed NICE's decision to refuse funding for Kadcyla on the NHS budget. It was made more shocking but the fact she was a Breast cancer survivor herself. Her reasoning was that Kadcyla was nothing more than 'false hope' – only extending lives by up to six months. Murray's article sparked it's own response, with Kadcyla patients coming forward to contest the claims. Woman&home spoke to American HER2 victim Kathy T about her experiences on Kadcyla. "I was stable with Kadcyla for 41/2 years. It was an easy drug for me to take, with few uncomfortable side effects" (,a timeframe significantly longer than Murray's article suggests possible for a patient on the Kadcyla course). Nonetheless, unforeseen liver issues saw Kathy end her treatment earlier this year. Kathy admits that on the whole her experience on Kadcyla was a positive one; but exactly how beneficial is Kadcyla for those under treatment?
Doctor and patient opinions
Dr. Mei-Lin Ah See, a breast cancer specialist Oncologist at Luton and Dunstable Hospital, does not agree with NICE's decision to cut funding, arguing that more research into the effectiveness of the drug is needed before NICE can justify the decision. Speaking to Woman&home she said: " With growing advancements in drug therapy, more treatments are becoming available for women who meet the HER2 criteria. For NICE to cut the funding is a sudden move- as Kadcyla is a relatively new treatment to be trialled in the UK. It's full capabilities- in terms of extending a patients life span or even treating their tumours indefinitely is still relatively unknown. Kadcyla has the potential to significantly extend thousands of lives- and in that case it would be worthy of purchasing on the NHS."
Geraldine  also believes the treatment should continue to be available on the British health care system. Detailing her experiences with Kadcyla so far, she explained, "I go in for treatment once every 3 weeks. When I was on radiotherapy (which lasted all week), it would take 8 hours out of my day including travel. Thanks to Kadcyla, I am able to have a life that doesn't revolve around cancer."
Will NICE reconsider?
NICE's Laura Gibson told Woman&home that an independent Appraisal Committee will consider all of the evidence again at a second meeting in June, conceding:
"There is a possibility that the recommendation may change depending on any further evidence submitted by Roche or stakeholders."
Dr. Ah See agrees that a reconsideration is definitely possible, reasoning: " With new drugs coming on the market all the time, Kadcyla patient's mustn't lose hope. If costs are lowered or compromises can be made, I am sure NICE will review their current decision."