Popular Boscombe vinyl shop Rose Red Records have been attracting the attention of famous bands and solo artists who have given them signed albums and merchandise. 
Successful solo artist James Morrison is the latest to have contributed to Rose Red Records, supplying the Boscombe shop with a signed programme only 2 weeks ago to frame and hang up on the wall.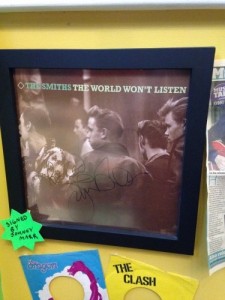 Co-Owner Chris Rose, 32, said: "Because the 02 academy is so close, quite often if a band playing there are into their vinyl they'll come in and browse and we always get them to sign something. We usually keep them for the shop."
Other artists to contribute to Rose Red Records include former Smiths guitarist and now solo artist Johnny Marr, who gave a signed copy of the Smiths album "The World Won't Listen" earlier this year which hangs proudly on the upstairs wall of the shop.
Chris Rose opened the vinyl shop in Boscombe's Royal Arcade with his brother-in-law Richard Smith in 2011 but currently runs the shop with the help of his mum and friends whilst his brother in law is on paternity leave.
The signature wall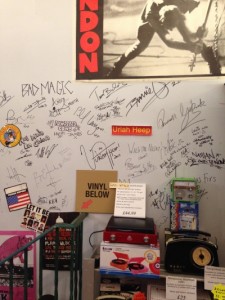 Bands who visit the vinyl shop are asked to sign the upstairs wall and Rose Red Records have now built up an impressive display of signatures.
Chris Rose said: "The first year we had Adam Ant come in and buy loads of records and CD's. The last band we had in were Del Amitri and the singer signed our wall for us."
With vinyl sales set to hit a 20 year high, Chris Rose hopes his shop will continue to receive this kind of attention for some time yet.
Linked to this article:
Who are the people buying vinyl?
The five best selling vinyl albums of the millennium so far