Small businesses in Bournemouth say they welcome competition from superstores and can still thrive on the High Street.
Small Business Saturday on December 5th was embraced by many café owners and small shops in the area and it is an annual campaign that aims to support and promote local businesses in the UK.
The owner of Richmond Florist believes that one of the main perks of local businesses is that they do a lot for the community:
We help each other and make the local economy grow".
Nowadays chain stores spring up like mushrooms at every corner of the street and some believe that local shops are doomed to disappear and be replaced by these superstores.
However, the manager of the small Café Delice des Champs stated that chain stores don't really affect their business since they can count on a solid number of loyal customers that choose this picturesque place over the mainstream Starbucks or Costa Coffee for their "special coffee and cosy atmosphere of the café".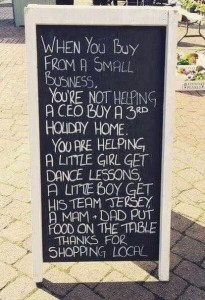 In some cases owning a local shop close to chain stores can even affect the business positively because it increases the number of people that walk by and consequently the quantity of possible customers, as claimed by an employee of Imelda's Wardrobe shoes shop.
The negative effect of this proximity though is shown during big sales like Black Friday, when small businesses cannot afford to compete with chain stores.
In a tight community like Bournemouth sometimes chain stores help small businesses back. "Lidl stopped selling flowers on the base that we did", Richmond Florist's manager said.
Therefore maybe not all hope is lost for the survival of small local businesses and they can continue to flourish adapting to the new needs of the market.
Linked to this article:
Photo gallery: here
Backgroung article on Small Business Saturday with statistics: here