Local youth group Poole Space Youth Project has opened up about the importance of services for youths in Dorset, discussing how the organisation benefits them as LGBT+ youth.  
Do you think the topics you talk about in these sessions are discussed enough in society?
Not in education, no. We don't learn about HIV and things like that, rarely even LGBT. In school we ask questions, but the teacher doesn't know the answers, or they refuse to answer it. The people that are supposed to be teaching us don't know any more than those learning, that's why these sessions are important.
Is LGBT often ignored in the school system then?
Without a doubt. I find education discusses STI's such as Chlamydia so they can show you the horrible pictures, then will say "don't' get HIV and move on". You just don't get that kind of information. There's still stereotypes.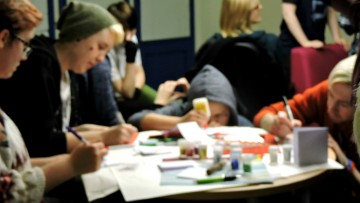 Are there still societal stereotypes being made with the LGBT community that affect you?
Of course. In terms of giving blood, stereotypes are stopping peoples' lives being saved. The fact that you decide to have sex with a man prevents someone else living, and that's absolutely stupid. It's assumed "straight" people aren't at risk of HIV, which is simply wrong, and people need to realise that.
How do you feel about the service as a whole?
Because we go to groups like this, we are more educated about things. We are being educated here. People here are more willing to talk about things, whereas in other places you can't get a decent conversation out of it. Here, people listen. This is an essential service. It's important to be comfortable within yourself, it's needed.