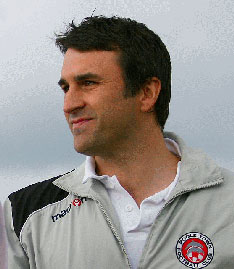 By Jimmie Lyden
Poole Town may feel they are lucky to escape this match with a point after a dull stalemate against a determined Hungerford Town side on a cold Tuesday night at the Tatnum.
The home side failed to establish themselves on the night and were grateful to goalkeeper Nick Hutchings, who had to be called on numerous times to keep the scores level. Poole looked more dangerous in the opening quarter with two main chances falling to Will Spetch but the defender could not make the most of them, heading the ball straight at the keeper and blazing over the bar.
After the break, Hungerford came out with renewed vigour and looked the more threatening team with quick pressing and clever counter-attacking play, with Hutchings being called to tip over the bar from a Brown shot and then claw away a flick on from a free-kick. Poole could have won the game when Lee Wort broke away from the defence in the dying seconds but he was cynically stopped by the defenders, with Steve Devlin's resulting free-kick unsuccessful.
Dolphins Manager Tom Killick was apoplectic at his players after the game, despite actually extending their lead at the summit after a Chippenham draw. "We played so badly at times in this game so a point is far more than we deserve.
"You don't often get points in a game when you look so incompetent."
Poole travel to relegation strugglers Bedford United next Saturday to try and get back on a winning streak.