Independent record shops like Boscombe's Rose Red Records have experienced a rise in popularity recently thanks to more people buying vinyl, but which groups of people are buying records?
Young people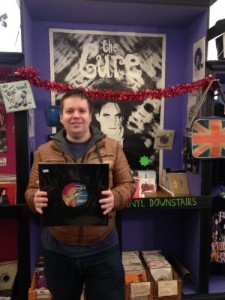 Believe it or not, even in the age of the smartphone and Spotify, young people have taken an interest in listening to records and are largely behind the surge in vinyl sales.
This year, music analysts Music Watch found that half of vinyl buyers today were under 25.
Chris Rose of Rose Red Records has seen a huge increase in the number of young people coming into his shop and said: "We're seeing younger and younger people coming in, 13 and 14 year olds which are getting into vinyl. We find the main sellers among that age group tend to be classic albums and bands."
Those that were around when vinyl was first popular
Whilst not buying as much as younger people, people over 36 still make up a significant proportion of those who are buying records at independent record shops today.
Chris Rose said:
We get a lot of people coming in that were into vinyl first time round who sold their collections but have now been re-converted back to it and want to buy back their original records."
Although younger people are buying more vinyl currently, certainly the old record players and records have been dusted off in many households and are being used and listened to once again.
Linked to this article:
Boscombe vinyl shop Rose Red Records attracting attention from famous musicians
The five best selling vinyl albums of the millennium so far