Looking to have a fun day out with your family or friends but are unsure of exactly where to go? Come to the historic town of Poole, a popular tourist destination that has a lot to offer anyone who comes to visit. Here are 5 ways of entertaining yourself and your family in the historic town of Poole.
The Quay
Why not take a stroll along the Quay? View the islands of Poole's natural harbour and maybe grab a bite to eat from one of the many restaurants located by the water.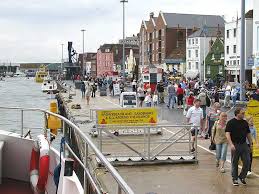 Crabbing
Continue the stroll down the quay and pick yourself up a crab line and bait for a little bit of crabbing by the lifeboat museum. Throw the line in and you'll no doubt catch a few of the little crustaceans, just be sure to reunite them with the water!
Shopping
Looking to get some new threads? A short walk from the Quay is Poole's town centre and the Dolphin shopping centre. With over 120 stores to choose from there's something for all types of shoppers.
Boat Ride
If you're seeking to experience the beauty of the harbour first hand, why not go on a boat ride? Take a maritime trip across the water where you can enjoy the staggering views of the island surrounding you.
Sandbanks Peninsula
A few miles away from the town centre lies the land of the elite, which boasts some of the most expensive properties in the country. Take a trip to the Sandbanks peninsula and visit the islands stretch of beach and collection of restaurants.
Pool town centre plagued by store closures
Poole's ghosts of shopping past in pictures