The Bournemouth International Growth (BIG) program will transform Bournemouth Airport accessability, free 60 hectares of land at the Aviation Business Park, create 10,000 new jobs and deliver about 350 news homes.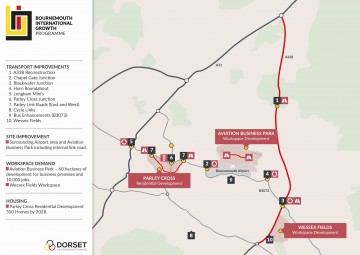 Forty million pounds has been secured by Dorset Local Enterprise Partnership  (LEP) for the for the four year plan to improve employment and development around Bournemouth Airport.
Existing key link roads and transport networks are in vital need of reconstruction because they are congested, inadequate and a barrier to growth.
In order for Bournemouth Airport and Aviation Business park to reach their full economic potential the poor infrastructure and lack of house will need to be transformed.
The transformation to improve the local economy will enhance access to employment sites will allow more jobs to be created and support better housing.
Where did BIG get the money come from?
The £39.5 million was allocated to the BIG programme from a £79 million funding awarded to the Dorset LEP by the Government Local Growth Deals.
In July 2014 they secured £66.4 million but later was awarded an additional £12.6 million in January 2015.

How will BIG use it?
The Dorset LEP has a four year plan for the BIG programme:
Making extensive transport improvements in and around Bournemouth Airport.
Enabling for new business premises at the Aviation Business Park by freeing 60 hectares of land.
Potentially creating up to 10,000 new highly skilled jobs over the next decade.
Generating up to £500 million of GVA.
Providing 350 new homes – up to 50% will be affordable.
Increasing broadband capacity to the Airport and Business Park.
Developing a new approach to improve and tailor skills to key business sectors.
Dorset LEP are aiming to complete transport and infrastructure investments are due to be completed by 2019.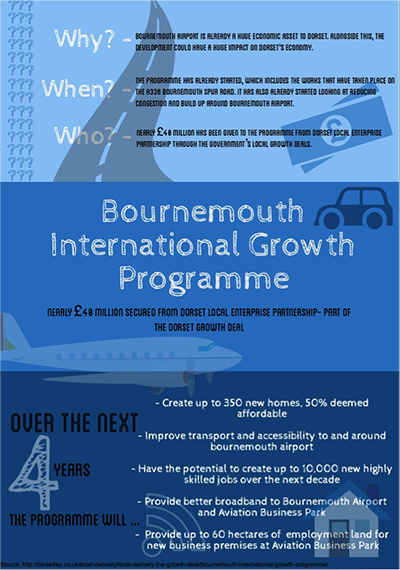 We want to know your opinions about this £40 million project, take our poll below!
Do you support the £40M #expansion plans for #Bournemouth #Airport? https://t.co/EHDRAulFNQ

— Buzz (@buzz_bmth) January 28, 2016