In order to emphasise the recent popularity female boxing has found, this is a brief timeline of events surrounding the sport.
1996 – Boxing begins
Amateur Boxing Association of England finally lifted its 116-year ban on female participation in the sport.
1998
Jane Crouch becomes the first British woman to be an officially licensed boxer.
2001
First World Championship for female boxing is held in USA.
2004
Jane Couch wins IWBF light welterweight title again (previous wins: 1996, 1997, 1999 and 2000).
2009
It was first announced the sport would be included in the 2012 Olympic games in London.
2009
A local boxer, Natalie Bee, wins ISKA female fighter of the year. Her debut professional fight was in September 2015.
2010
Bournemouth mum Denise Mellor fought for a world title for Muay Thai. This was the first event of its kind.
2011
Ippon Gym, that specializes in MMA style fighting, opens in the heart of Bournemouth. Classes are still available in 2016.
2012
Savannah Marshall became Great Britain's first ever world champion at the Women's World Amateur Boxing Championships.
Nicola Adams became first woman to win gold medal for women's boxing. It was also announced that women would box in the 2014 Commonwealth Games for the first time ever.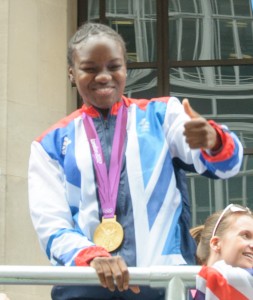 2014
Nicola Adams won England's 50th gold medal. She also became the first female champion for the sport in the Commonwealth Games.
Cornelius Carrs' Boxing Bournemouth was established, giving men and women a chance to train with a former WBF Middle Weight Champion.
2015
FIT2BOX gym opens in Bournemouth with 2 female coaches, one who is the head trainer.
2016
The year has also already started to see the apparent popularity of the sport, with various gyms offering more classes for women to get involved in.