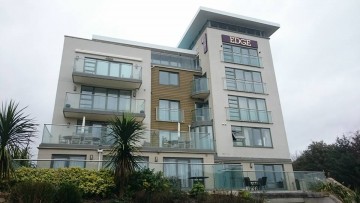 The approval to convert The Edge restaurant & bar into flats was announced today following a planning meeting with developers to turn it into flats. The restaurant had been set up for 6 years, but it seemed its marketing and advertising weren't taken on strongly enough to keep it going on the long term.
Scott Lane, owner of nearby Alum Dene hotel, says, "there was no sort of advertising of the restaurant. When it first went ahead we had an idea that in the future it was going to become flats, but the council persisted it was going to be a restaurant. We knew what was going to happen because back when it was part of the Studland Dene there were so many objections"
Other neighbouring business owner, Julie, from the Alum Grange hotel, doesn't show any surprise or opposition following this recent news. She says, "I'm not opposed to it turning into flats really", she continues and explains,
"I would have thought that if you were a resident you wouldn't want a restaurant in the block of apartments that you're in, paying nearly a million for. Would you want all the extract of fumes blowing into your apartment?"
Co-owner of Alum Dene hotel, David Lane, summed the situation up and says, "If you can't get people in it, what are you going to do with it?"
Upon wondering if this will affect the tourism in any way, it seems the area is quite set up with restaurants already, with a few residents mentioning the Vesuvio, located on the approximating beachfront. Julie said, "I think a lot of people just go there if they're going to eat out and just eat on the beach."
The owners of the Alum Dene hotel illustrate the evolution in the area's tourism through the past two decades with a staggering number. David Lane says, "When we first came here there were probably about 75 hotels or so, but probably 70 hotels have gone since 1994. All the road was hotels. Up and down, around the corner, they were everywhere."
They believe the lack of directions is one reason behind the lack of tourism, "It's very badly sign-posted, and as far as the tourism board go they don't direct people to Alum Chine anymore. When Bournemouth's full we tend to get the overspill, but we're not first choice as such" Scott says.
Listen to a segment from Buzz News radio for more insight on the story.
Explore the history of Alum Chine through this interactive timeline.