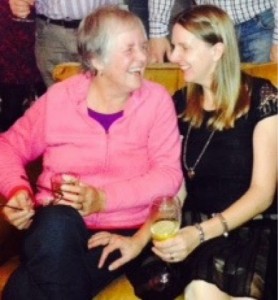 Although a diagnosis can be an upsetting experience, it can also be a relief to both the patient and their family. Suzy Webster is no stranger to dementia. Through both her grandmother and mother, Suzy has learnt a lot about the disease. She refuses to sit back and let dementia bring her family down. 
The Webster's are a family of six who live with dementia as a family. Suzy is married and has two children ages nine and six years old, she believes good dementia care is about connecting with a person in that very moment. .
Suzy understands that her mother isn't going to get better, even with this knowledge she choses to positively plan their future as a family.
Below is a short video with an insight into the life of the Webster family.
 
 
---
[one-half-first]
Find out more about the 

Dementia Awareness Project:
Read: I'll always be my mother's daughter
Listen: Putting a parent with dementia into care
Watch: Dealing with the diagnosis of dementia
Learn: Facts about dementia
Explore: Dementia MMP blog
[/one-half-first] [one-half]
Tweets by @Dementia_MMP
[/one-half]