It has been revealed that Dorset Police made 628 burglary arrests in 2014-15 , a significant reduction from the 785 arrests made the year before.
Every year the Office of National Statistics and the Home Office release statistics about police powers and procedures, as well as the crime survey for England and Wales.
These show that in 2013-14 there were almost 17 arrests for every 100 burglaries in Dorset.  In comparison, last year there were just under 14 arrests for every 100 burglaries.
The number of burglaries reported to the police decreased significantly across the two years, from 5,004 to 4,497.
Comparison with Hampshire
Burglary arrests in neighbouring county Hampshire also reduced.  In 2013-14 there were over 19 arrests per 100 burglaries, which dropped to just over 16 arrests per 100 burglaries last year.
The overall number of arrests dropped from 2,132 to 1,835.
Reports of burglary made to Hampshire Police increased over the two years, from 10,872 to 10,940.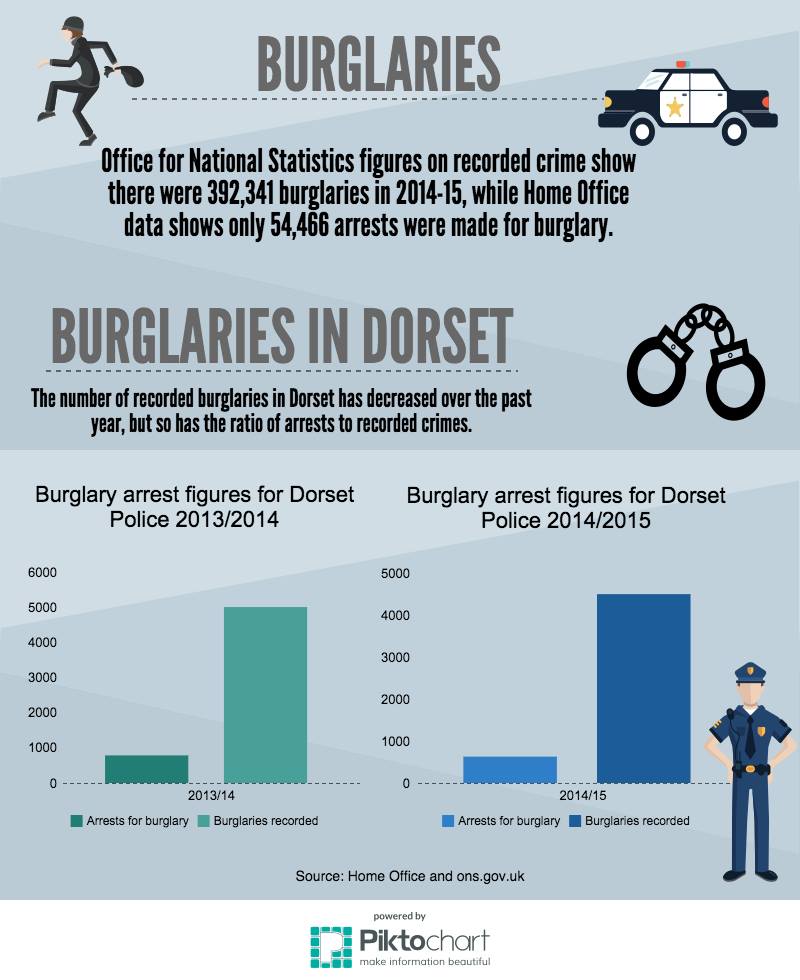 Support for burglary victims
Mark Castle is the chief executive of independent charity Victim Support, who provides legal advice and emotional support for victims of crime.
He said: "Burglary not only robs victims of their physical possessions, it can rob people of their sense of security at home as well, a place where everyone should feel most safe. This crime can also leave many people feeling vulnerable, frightened and distressed.
It is important that all victims know that reporting an incident of burglary will be taken seriously by the police and that the offence will be thoroughly investigated.
Both Dorset Police and the Police and Crime Commissioner for the area were approached for comment; Dorset Police declined to respond, and the PCC had not yet responded at the time of publication.
Are you a Dorset resident who has been burgled since 2013? Did you report it to the police, and how do you feel about the police's response?  Let us know in the comment section below or get in contact via Twitter.
Alternatively, vote in our poll below:
Have you been burgled in the past year in #Dorset, #Poole, #Bournemouth or #Christchurch?

— Buzz (@buzz_bmth) January 28, 2016