Dorset Wildlife Trust encouraged the adults and children of Dorset to take part in their beach clean-up at Kimmeridge Bay this afternoon (Thursday 28th January)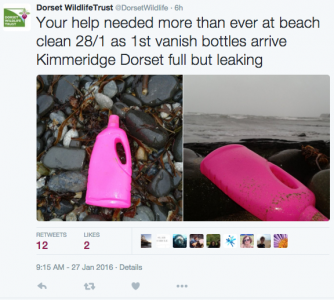 Marine Awareness Officer for Dorset Wildlife Trust, Julie Hatcher, says marine pollution has more than doubled in the last three decades:
It's a massive problem, and in fact, people are now talking about marine litter pollution being on a level of concern along with climate change and over fishing.
The Trust managed to rally a total  of 24 volunteers who removed whopping 310kg of litter from the beach – 27 sacks full of debris including larger items such as rope and plastic barrels.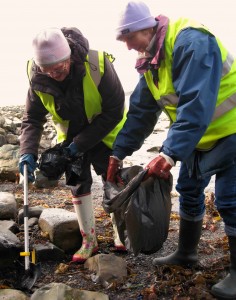 Plastic poses the biggest threat as marine animals often mistake tiny pieces of plastic for food, which blocks their stomachs, and can lead to starvation.
In fact, the Marine Pollution Bulletin found plastic had been ingested by a shocking 700 species of marine wildlife. Because of this, one million sea birds and 100,000 sea mammals die each year.
Although these are global statistics, the problems still exist close to home. Ms Hatcher speaks about the some of the other threats:
"I guess the most visible ones [threats] for us, are when animals get entangled in fishing rope and fishing net…It's a problem for sea birds, it's a problem for whales, dolphins, seals and all those kinds of animals."
Plastic absorbs toxic chemicals, so the fact that is has become part of the food chain raises alarms for our own health.
Amazingly enough, every piece of litter that has ever been created, still exists today – either in landfill or the ocean.
The Ocean Conservancy estimate that there will be more plastic in the ocean than fish by 2050. Because of this, the Trust feel it's important for everyone to do their bit to help stop this prediction from becoming a reality.
As well as their events, they urge us all to take part in "2 minute beach cleans". Spend 2 minutes picking up litter every time you take a trip to the beach, take a picture of your haul and post it on Twitter using the hashtag "#2minutebeachclean Dorset".
Julie Hatcher says that taking part in beach cleans isn't the only way to help – we can try to cut down on the amount of plastic waste we produce in the first place.
80% of all the plastic in the ocean comes from us on land…there's lots and lots that people can do – not flushing things down the toilet. Things like cotton bud sticks end up on our beaches.
Click here to listen to the full interview and read more information about marine pollution.