It's already dark at Hope Hill, Kent but laughing and chatter can be heard in the distance. With arms full of shields, swords and armour we lug the heavy gear across the soggy grass towards camp.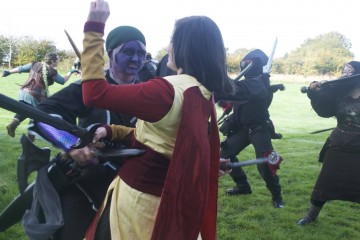 In the ombré light of the fire people gather for both the warmth and comfort of the community. This is Urutau, a fantasy world full of its own beings and beasts, a place were you are free to choose who you want to be.
This live action role play (LARP) is called Element RPG, founded by Trevor Paul Halliday ten years ago, it has accumulated quite a large player base and even more characters.
Many of the people that come here not only play for fun, but to escape real life troubles such as mental health.
Surviving the first night
Jessica Winch sat in a camping chair by the fire, wrapped up in a duvet.
She started playing when she was around 15 years old. With the help of her LARP community she has over come anorexia and is fighting other trauma related conditions.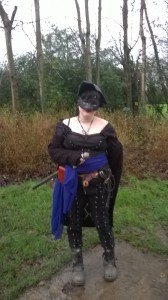 Jess designed her character, Misty, around her own qualities and experiences. She says that misty is "a very stern and no-nonsense character that has a lot of responsibility being a quartermaster.
She's also hardworking, being a pirate and a blacksmith." Jess says this reflects her as she prides herself on these qualities.
Misty also reflects the trauma Jess has experienced in the past and "does not like the idea of sexuality, of recognising those feelings or acting upon them" because of an experience with harsh abuse.
She is also described to have "vicious scars on her back from lashing she has received" which Jess says imitates her self harm in the past that still haunt her.
Misty went through so much" She says: "this is how she survived it, and now she's stronger than ever."
Jess says that misty empowers her: "I can gain strength from her thinking that it wasn't my fault".
A character in a white robe and sash stood over the fire cooking various meats. Others soon joined in adding their own sausages, burgers and bacon.
Soon charred bbq smells fill the air and at that moment plot begins to unfold. In comes Mr Gold, a non-playing character, offering deals to any willing Urutau dweller.
Character after character lined up for a disappointing deal. Tulkas lost his whole ship in doing a deal and another character lost a finger after asking Mr Gold to take his ring. This was just the first night of the LARP weekend.
Preparing a warrior
The trip to the toilets the next morning was so cold and wet that the grass crunched beneath my feet. It was the last weekend of the year, so the weather was going to be drab.
Players were already getting into character. Leaning over the sinks surrounded by mud and face paints, the girls painted woads, tattoos and various other markings on their face and body.
Back at the campsite people had already started breakfast. Late risers peeped their heads through their tent zip squinting at the light, some of them with smudged paint from the night before.
The referee team have a meeting to discuss the events happening today and the plan of action. Then they brief the rest of us.
That day we were at a desert known as the Burning Sands, the home of the Fykari people.
Though in real life we were all soaked and chilly at best, the referees gave us an indulgent description of the landscape we were role playing in.
Giant snakes rose from the ground to stop us but we fought our way through.
As we were all getting ready for the linears ahead a referee came up to some of us to do a test. Those that failed were told our characters had half health.
Apparently a rat had come through the camp the night before and spread a disease to some of us. So, first job of the day was to find an antidote.
A girl named Alyx came on this linear with us. She has been LARPing for about 2 years and says that it has had therapeutic effects on her struggle with depression.
Her current character is a royal blood soldier named Vilynara.
I tend to play really strong minded characters but think of myself as a weak minded person", she said.
We found the golden rat that had also spread the disease to nearby Fykari villages. We had to stop the villagers from killing the rat and extract the antidote from it.
Our characters made the decision to share the antidote with the villagers, so everyone was cured. Then it was time for a break and lunch.
A community of heroes
During the break everyone gathers back in camp by the fire. Some players gorge on crisps and biscuits whilst others balance bread and filling on their knees.
Children run in, out and in between tents all dressed up in makeshift armour and wielding LARP safe short swords. They scream and laugh until their fun is halted by: "Kids lunch!".
Adults gather in circles of chairs chatting about the weekends events and chuckling about actions characters have taken in the past.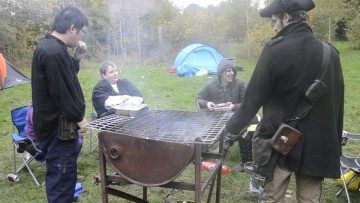 LARP doesn't only help those with mental health issues, it also used by those suffering with learning difficulties.
Bradley Barfoot suffers with Autism, he said: "The time spent role playing is one where I find myself creating characters that reflect different people I've met.
By acting of an accord where I am assuming another's actions based on what I've witnessed, I've been able to not only enhance my immersion into a game, but turn it on it's head and play a character in every day society."
He joked about one of his characters traits saying that in real life: "Generally I wouldn't steal from my friends is the only difference!"
Dr Laura Mitchell is a Sociologist at Keele university who has written both a paper and a blog on LARP.
Her research includes the behind-the-scenes workings of LARP, what it is like to be a player and her own experiences of LARP.
Emphasising that she is not a psychologist, Dr Mitchell said that in her own experience she can see that it has quite a communal aspect to it and can see how this could be helpful to some people.
Expression through battle
After lunch it was time for the second linear and this time I was going to save a unicorn. It had been captured by some tribesmen and was going to be sacrificed.
As we entered the woods most of the outside light was shut off except that which shone in between the trees.
A glimpse of a linear: healing comes before the cluster of weapons in battle.
Characters immediately began to stealth, in case there were any unsuspecting visitors in the forest.
It had a particular musty, ground smell since it had been raining the night before. The leaves were less crunchy and more slippery. In the more walked-on areas the leafy ground had began disappearing in mud.
People started appearing from behind trees and attacking our group. These people had a high level of stealth and none of our characters could see them, so we were unprepared.
They started telling us to "leave" but we were on a quest so of course we carried on. This just meant the attacks came more often, with less time to heal in between.
Eventually we got through the other side, only to find out the land was riddled with traps. Luckily I and another character had a skill to be able to detect them.
Jack Greenway's non-playing character assisted us on this quest.
In the real world Jack has suffered with clinical depression, self loathing and self harm. He says: "in many ways [this] was one of the biggest struggles I faced in life, which partnered with my low self esteem and self confidence."
At his first LARP he was worried about fitting in but says:
I and my friends were welcomed with open arms"
He added: "I still didn't fit it until I met Mick Benstead.
He taught me how to make a character from my heart, from my emotions and make them come to life."
Jack says that role-playing enables him to express and deal with his real life struggles which he usually would keep bottled-up.
"LARP has become my second life" he says: "I love it more than anything I have ever cared about."
He pays his respects to a well loved LARPer, Mick Benstead, who sadly passed away in 2014: "A good and kind man who touched many people's lives."
After painstakingly tiptoeing through the mud-ridden forest path we fought off the tribes best warriors. We saved the unicorn just in time for dinner.
Winding down
The meats and buns come back out and onto the camp fire. Eyes were all on the fire watching intently; wielding weapons and battling for an entire day makes a hungry LARPer.
Being the end of Autumn it's getting dark quickly. Lanterns and torches appear making spotlights in the darkness.
Once the children have gone to bed it's time for an alcoholic beverage. No LARP evening is complete without some mead shared between drinking horns.
As the evening draws to a close and tiredness sets in, plot wears thin and singing quietens down.
Players settle into sleeping bags for the night to prepare their aching muscles for another day of battle.
Related links