The new development proposed by Matchems Karting will replace the current 420 metre-long track at their Leisure Park near Ringwood. The agents for the karting business say the new track is 'the future of sport.'
"It is the perfect site to build a kart circuit."
The proposal for the site next to Chapel Gate will see the entrance to the Bournemouth Sports Club 'rejuvenated' with a number of low-rise huts replaced.
Christchurch borough Council will decide the fate of the development, which aims to build on land previously used for car boot sales.
The replacement buildings will be put onto the site already assembled to avoid damage to land that is protected by the Green Belt policy. The main purpose of this is to protect land around urban areas and maintain forestry and wildlife areas.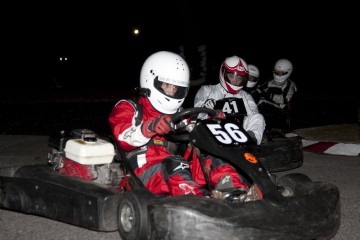 Formula one drivers Jenson Button and Lewis Hamilton began their careers in karting and the development is seeking permission to build a circuit of a 'potentially international reputation'.
Matchams Karting Spokesman has said: "It is the perfect site to build a kart circuit. It's right next to the main runway at Bournemouth airport and it is central with loads of surrounding leisure activities. You couldn't wish for a better place really.
Members of the public have until the 8th of February to submit any comments about the scheme to Christchurch council.