The RNLI has named Poole as one of the third busiest stations in England; launching 99 times and assisted the lives 385 people during 2015.
The Royal National Lifeboat Institution (RNLI) rescued an total of 9,763 people in the UK and Ireland in 2015. A year when volunteer lifeboat crew and lifeguards were kept busy by storms so bad they were given names.
Crews spent a total of 57,393 hours on rescues throughout England, and lifeguards dealt with a total of 15,714 incidents.
Head of the RNLI, Will Stephens said,
"Our volunteer lifeboat crew and lifeguards have again worked exceptionally hard serving our local communities. We continue to urge those working or enjoying our coastline and inland areas to respect the water. We understand that things can go wrong from time to time, so some preventative maintenance and annual checks prior to the boating season should allow for worry free sea time."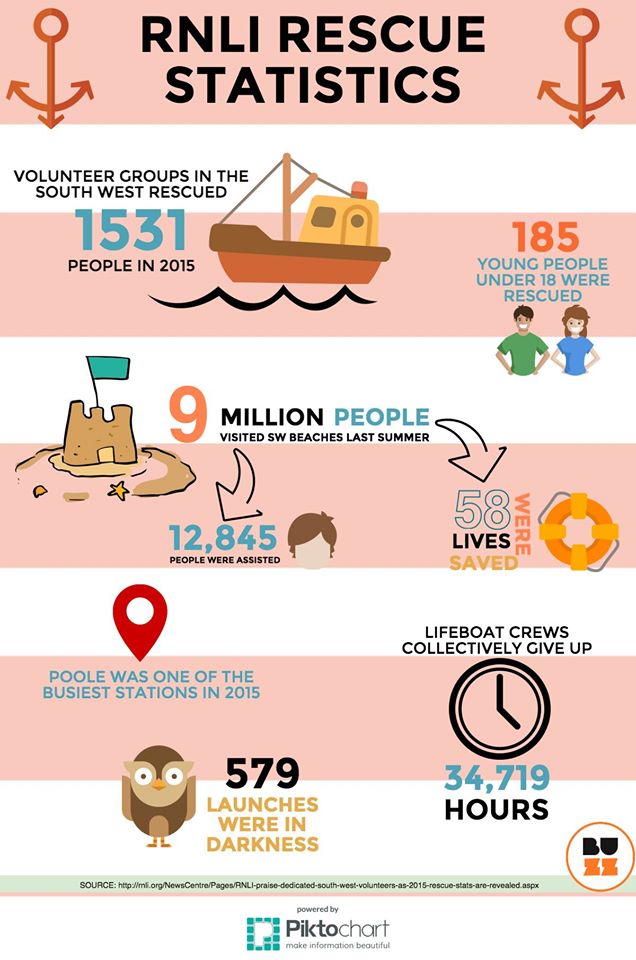 RNLI volunteer lifeboat crews rescued 7,973 people whilst the charity's lifeguards rescued 1,790 people around UK and Irish coastal waters.
With over 15.5 million visitors to RNLI life-guarded beaches in 2015, the charity's lifeguards helped over 18,000 people dealing with anything from stings, slips and trips to missing children, major first aid incidents, as well as rescues in the water.
These figures are released ahead of the RNLI's bid to urge Fishermen in Dorset to stay safe through a new online safety video released in partnership with Seafish. You can find the story here: http://buzz.bournemouth.ac.uk/rnli-launch-safety-video/