[three-fourths-first]
Robotics are already part of our everyday life from cleaning our houses to building our cars. But Mollie Foster ask do we cross the line with jumping into bed with them?
A world where sex robots take the place of humans seems like a million years away but with advances in artificial intelligence we may be seeing them sooner than we think. AI expert and author of 'Love and Sex with Robots' David Levy predicts by 2050 'people will be using them regularly for sex, falling in love with them and even wanting to marry them.'
Sex dolls have made improvements from the blow up novelty we once saw to anatomically correct bodies. The advances have triggered protests as now manufacturers are building intelligence into them so they can carry a conversation, feel and even have a personality.
American company True Companion are developing the worlds first sex robot Roxxxy for around £5,000 who 'will always be turned on and ready to talk or play.'
Sex with robots has already made it onto the small screen this year with the British Channel 4 series Humans. Screenwriters Jonathan Brackley and Sam Vincent 'wanted to explore the everyday moments where humans could be made to feel inferior to their machine counterparts'.
Humans character Niska in a scene from a synth brothel
Married and in love with a sex doll, Davecat sees them as people in their own fashion
My synthetic companions are as much people to me as a fictional character is to the writer who builds the world they live in.'
While he welcomes this sexual revolution, we question the morals behind it.
Consumable Women
Robot ethicist Dr Kathleen Richardson has launched a campaign to ban the sale of sex robots in the UK, arguing that they 'reinforce traditional and damaging stereotypes of women' and will be 'detrimental to children, society and relationships.'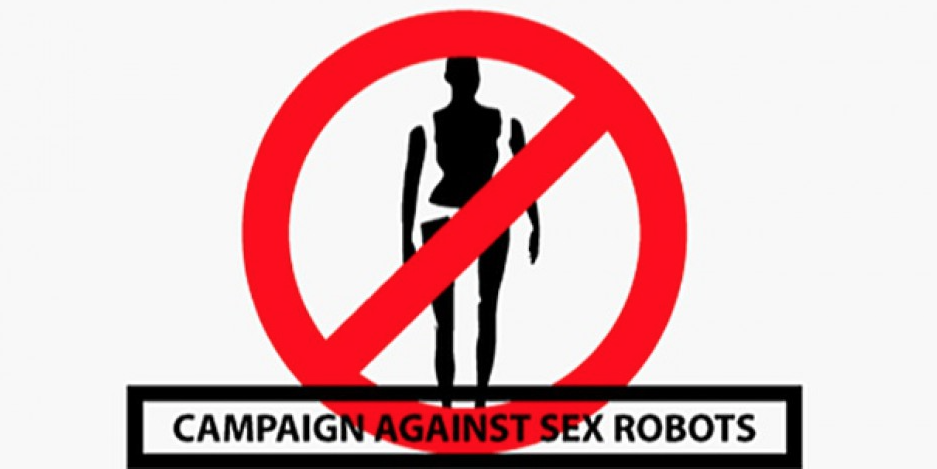 Robots capable of satisfying our sexual desires aren't so farfetched, to some they already exist in the world of prostitution. Dr Richardson says 'technology reflects culture and then reinforces it. If there were no people who were 'sex robots'- there would not be technological sex robots.'
And it's not the first time sex robots and prostitution have been compared. 'One of the things that people often ask me is why should people enjoy having sex with a robot, when they know that the robot doesn't love them? But my answer to that is why should people enjoy having sex with a prostitute when they know that the prostitute doesn't love them.' says AI expert Mr Levy.
Hit sci-fi drama Humans, featured a storyline where synth Niska is working as a prostitute in a legal synthetic brothel. Screenwriters Brackley and Vincent, question the notion that robots could replace human sex workers: 'But would taking the potential exploitation of humans out of the equation lead to the normalisation of the sex trade. That seems pretty worrying – and something society would have a hard time reconciling' they say.
Founder of True Companion, Douglas Hines says sex robots do not objectify women, instead- 'it is a compliment that we are replicating the warm, loving hug of a woman, the beautiful gaze from a lover and the understanding and support provided by a human companion in the form of our sex robots.'
As if we don't have enough hurdles in our relationships already, the campaign suggests sex-tech will reduce human empathy taking people away from real human relationships.
Cure for Lonliness
Surely a world where lonely singles can find comfort in the arms of a robot lover is better than a world without. Mr Levy certainly agrees:
There are millions of people who for different reasons aren't able to form good human relationships themselves and for them a sex robot will be a great advantage.'
Dr Helen Driscoll, leading authority on the psychology of sex and relationships, in her blog says surely virtual sex partners are 'better than no partner at all.' But like many others recognizes that human-robot relationships will 'present real challenges to relationships.'
Despite being labeled sex-bots, Mr Hines says customers do not only use them for sexual purposes but to 'help meet their hierarchy of needs.
'We would never deny anyone the pleasure and benefit of our sex robots- from the patient suffering from cerebral palsy without a female companion to the man who is looking to spice up his love life by introducing another woman to their bedroom,' he says.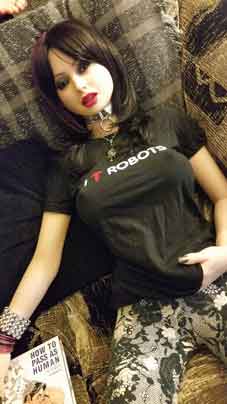 As an activist for synthetic love, Davecat argues 'many iDollators and robosexuals have and want synthetic partners as not only sex partners, but as lovers, companions and friends. Being in a relationship with a synthetic does nothing to harm anyone, so it shouldn't be stigmatized.'
The New Sexual Revolution
If a robot could be built to feel and act like a human, would you want one? It's safe to say tomorrow's sex robots wont inspire everyone to abandon their partners for a life of automatic lovers, but more people than thought would embrace the new sexual revolution. According to a study by Middlesex University, 1 in 5 people in the UK would opt for robot sex.
Doll lover Davecat sees the future of sexbots much like other recent technology advances: 'I liken the development of artificial companions to that of mobile phones. Many people didn't think we needed them at first, but these days, the overwhelming majority of those same people now wonder how they managed to live without one.'
We're still a long way off according to Humans creators Brackley and Vincent, 'until real-life robots are synth-level convincing recreations of humans, machines used for sex are probably going to remain a niche pursuit.'
So the future of sexbots may be closer than we thought, but it may be some time before we're seeing them dancing in strip clubs and sharing a bed with them.
---
You may also like… 
[/three-fourths-first] [one-fourth]    
Tweets by @Lifewithsexbots
Follow twitter activity here
[/one-fourth]