It's not just Justin Bieber saying 'sorry' all the time.
South West Trains (SWT) this week tweeted angry commuters 'sorry' more than four hundred times.
The train company apologised individually to commuters who were venting their frustration about the recent delays and cancellations particularly on the services running through Bournemouth.
Despite 81% of South West Trains customers reported as satisfied with the service, yesterday's delays proved to be problematic for some customers.
Emma Lawford, 20, a Multimedia Journalism student at Bournemouth University was stuck in Southampton last night, she said: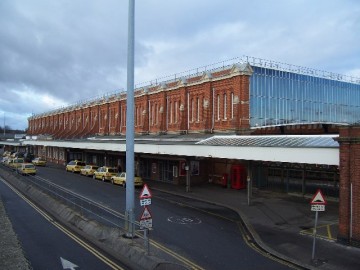 "There's a problem every time I travel with South West Trains. Flooding can't be helped but it would've been something else, usually signal problems or something like that. I was on my way back from Waterloo when my train terminated at Southampton Central. To get to Bournemouth I had to get a train back to Southampton airport where I'd come from and wait for a bus replacement there. There were loads of people and I'd just had enough. When you pay for first class to then be squashed on a train back to where you've come from.Not good!"
Another commuter, Ashley Morris, 23, said  "I commute from Bournemouth to Southampton every day, yesterday evening no trains were running between Southampton and Bournemouth so I ended up going to Southampton Airport and getting a bus provided by southwest trains. It was complete chaos."
An analysis done on the train companies twitter page revealed other buzzwords included 'delay' which was used 26o times, 'cancelled' which featured 136 times and 'due to' which made an 130 appearances in just one week.
Over the next year, SWT aims to invest £50 million in customer service, with the introduction of customer ambassadors, 170 new easy-to-use ticket machines and extra car parking spaces at key stations.
£210 million fleet of new trains is to be introduced from 2017, along with major improvements to London Waterloo, which the company hopes will boost peak-time capacity by 30% by May 2018.
7.17 very full – 10 standing by the loos but did get my favourite pitch and knees might manage the bend down on to sit on my bag

— Anne Milton (@AnneMiltonMP) January 28, 2016
@SW_Trains Late getting into Waterloo every morning this week. Must do better!

— Nicola Gill (@ngill10) January 28, 2016
Andrew Commons, Communication Manager for SWT said, "We run more trains a day than than virtually any other operator on the UK rail network and our Twitter account has nearly 240,000 followers. It is an important way for us to give our customers important real-time information on their services and answer their queries. Whether or not any issues are within our control, we proactively let our passengers know what to expect on their journeys. We also believe it's right to say sorry when things don't run smoothly."
He then said, "The number of tweets on any day can go up or down depending on a variety of factors affecting the railway, including planned railway improvement work. Even where we have multiple contacts about one issue, we always try to provide an individual response and say sorry to those customers affected."
Take our poll below and have your say!
Are you happy with South West #Trains service? #SouthWestTrains#train#SouthWest

— Buzz (@buzz_bmth) January 28, 2016
Click here to see find out where your money is being spent on South West Trains