Police in Bournemouth are appealing for witnesses and anyone with information to come forward after an assault and criminal damage incident in the town.
On Saturday at around 3.30pm, a man was driving his Fiat 500 in the Southbourne area toward the Tuckton roundabout.
It was reported that as the driver waited to turn onto Tuckton Road a man approached his car, shouted at him and kicked the offside of the car leaving a dent before putting his hand through the open car window and pushing the victim in the face, causing his glasses to fall off.
The victim drove into Tuckton Road and was followed by the suspect. The victim stopped to take a photo of the man before leaving the scene.
Police have released this image of the suspect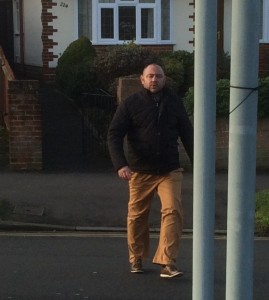 Bournemouth police Constable Craig Jeffery, said: "I am appealing to anyone who recognises the man in this photo to please call me on 101.
"I am also keen to hear from anyone who witnessed all or part of the incident."
Witnesses and anyone with information should call Dorset Police in confidence on 101 quoting incident number 23:210. Alternatively, call the anonymous Crimestoppers line on 0800 555 111.