Scandals related to prostitution and sex trafficking are many, and the Rotherham scandal is only one of many ongoing cases around the world. The town, located in South Yorkshire, has been plagued with grooming and sexual exploitation of young girls since 1997, with the number of victims revealed to be as high as 1,400 minors. While it was only thought that the perpetrators were a gang of mostly Pakistani men, it is now alleged that members of the local council and police did not only turn a blind eye to the criminal network, but were also involved. Following the 2014 Jay report, 42 police officers are listed amongst the list of 300 suspects.
Looking at this case, which is far from isolated in its kind, it is easy to see why a lot of women and girls trapped in prostitution won't trust the police when in need of help. The following question may then arise, who are prostituted victims able to trust?
Surprisingly, within the many feminists and activists, women religious are particularly committed to addressing the plight of women and girls and are very equipped for activism in this domain. The church is committed to the work of alleviating human suffering, and Pope Francis considers trafficking a crime against humanity. ACRATH, the Australian Catholic Religious Against Trafficking in Humans, is a very active organisation within the church circles and stands out by the strength and size of its network. Not only this but it is recognized and funded by the government, and it assists a number of people at the request of the Red Cross and The Salvation Army. Sister Anne Tormey, National President of Acrath 2014-2015, says, "Sisters of Mercy are committed to working for mercy and justice. Combating human trafficking is a major priority for the Sisters of Mercy globally", and explains that they are equipped for the activist fight through their commitment, flexibility, extensive network resources and experience in ministry.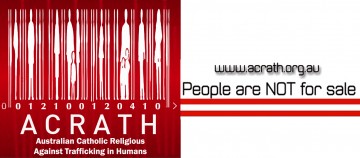 Radical feminist agency London Abused Women's Centre develops policies and programs with the goal of ending men's violence against women globally includes helping the victim's families in advocating with the police. Executive Director of LAWC Megan Walker, describes the relationship between LAWC and London Police Service as good, although she mentions that an outstanding issue is the agreement to a protocol that sets out the guidelines for women's advocates and police to work collaboratively in the field. As an example, this would imply for women's advocates to attend sweeps with the police to meet with sexually exploited women and girls.
Beyond prostitutes not trusting the police for fear that it is corrupted, there are many countries where prostitution, or certain elements linked to it, are illegal. This means that even if the women are assaulted they will rarely go to the police.
Pat 'the sensual masseuse', started off during her days as a student, when she danced as a stripper on the side of university to help earn herself a living. After stripping burned her out she did professional domination for a few years, before moving to New York and learning massage therapy. The natural transition for Pat was then to get into tantric massage, which is similar to domination because she is in control of a person's body. It didn't take her long to move to London because of the legal situation, and when she recalls her days back in New York the sensual masseuse says,
It was very stressful to do something illegal, and you never know when the next client can be an undercover cop"
She explains that men in the United States get away with assaulting the sex workers because they know the girls won't go to the police, and this also led to her being in vulnerable, dangerous situations when she started off young and didn't have a lot of experience.
Now based in London, the sensual masseuse can testify that under a system where what she does is fully legal, not only is she very happy doing sex work, but her quality of life has improved massively and she hasn't been in a threatening situation once in the past ten years. 
Amidst everything, she can't help but be worry that her past will catch up with her, saying,
"I am afraid, very very afraid of the Swedish model coming into England. It scares the shit out of me to be honest, because that's the American model, and I'm going to be confronted with the same situation if the Swedish model comes to England".
The Swedish model, otherwise known as the Nordic model, is a law reform penalizing the demand for commercial sex, while decriminalizing the sex worker. In Pat's experience, this type of system is not protective of women and they still won't be inclined to go to police for help. If so, they lose their clients so they lose their job.
Not everyone is of this opinion, as some believe Sweden and Norway have set the example with their approach to prostitution. LAWC's Megan Walker says, "We support the Nordic Model because the focus is on those men who choose to sexually exploit women. We believe that in criminalizing demand we will ultimately reduce it. Further, we believe the legislation shifts the culture for future generations, where girls grow up learning they have real options and choices in their lives and boys grow up learning girls are to be respected and valued."
In the activist's opinion, women in prostitution are victimized and they should never ever be criminalized. During her moving speech at the Feminism in London Conference back in late October 2015, Megan spoke about the survivors that access service at LAWC and said,
these women are left with chronic, long-term health issues, including post-traumatic stress, sexually transmitted infections, head injuries, migraine headaches, troubles with balance and walking. Sometimes they identify to us that they can't get relief from pelvic pain, their jaws and throats are constantly in pain. They have difficulties swallowing, and they suffer from vaginal and anal pain; and in some cases anal prolapse".
In the light of the decision of Amnesty International, the world's biggest Human Rights organization, to stand on the side of decriminalization, Megan Walker is angry that during its lengthy research process to make an informed decision it didn't speak to prostitution survivors or abolitionists.
So as to gain a better understanding of this feminist abolitionist perspective, we speak straight to those who believe that selling a woman's body and the violence inflicted upon prostitutes are a violation to a person's human rights. Jeanne Sarson, from ground-breaking organization Persons Against Non-State Torture, looks at the torture inflicted in the private and domestic spheres alongside co-Human Rights defender and researcher Linda McDonald. For women and girls in prostitution, Jeanne explains that, "when non-State torture is inflicted against them it is sexualized, considered sadomasochism, 'sex work', and an industry.  This violates human rights equality and must end, just as slavery needs to end.  Slavery was named as 'work' so now prostitution is being reframed as 'sex work'.  Both are about buying a person, and whether in prostitution or slavery, rape is ever present.  Both are violations of human rights so both need to be abolished".
Angela Dolmetsch, Vice-President of the International Federation of Women Lawyers, explains that FIDA also believes in the eradication of prostitution because to sell the right to have sex with a human being is like slavery. FIDA works towards the advancement of women worldwide through comparative law between countries, and has a Consultative status at the United Nations so attends the UN Conference on the Commission for the Status of Women. The eradication of prostitution is one of the federation's priority themes. 
Back onto the pro-decriminalisation side, Nova, a 33 year old prostitute from Lancashire, UK, pushes for full legalization, saying she speaks for every sex worker out there and calling it a no-brainer. She explains the absurdity of it all by saying, "we've got this weird system, where technically it's legal, and then some bits of it are criminalised, and it's just non-sense. Can you imagine if we did that with any other profession? If you want to be a plumber it's quite alright to be a plumber, we don't mind you being a plumber, as long as you pay your tax. But if you want to work with another plumber on the premises, 'no I'm sorry but we can't'."
As for the reasons why, Nova says it is safer for prostitutes to work together, and making it fully legal will normalise it so take away the stigma. The words the escort uses to qualify the stigma attached to prostitution are "most damaging" and "so dangerous it makes people think they can't go to the police".
Her opinion of the Swedish model is that it is absolute non-sense, she argues, "it is not going to ever be humanly possible to end the demand, unless you reduce the human species to single sex species", and she continues by saying that it will attract only people who are willing to do criminal activity so take away all her best clients and leave her with the unpleasant ones.
When reflecting on sex worker studies, Nova says that so many statistics are so badly flawed because all researchers do is interview street walkers then generalise about the whole sex work population, when the lives of street prostitutes are obviously a lot more chaotic. The escort concludes on the following statement,
"I feel like I can't ever talk about anything negative that happens, because that might be taken away from me and blown out of proportion, and that I have to constantly be like, 'I love sex work, it's amazing'. It's not amazing, it's not awful, it's just fine".