Wimborne Town were founded in 1878, and AFC Bournemouth were founded in 1899. However, as time has gone by, the two clubs have had varying degrees of success.
1910-1920:
Wimborne won the Dorset Minor Cup.
Dean Court, AFC Bournemouth's home stadium, created.
 1920-1930:
Wimborne won the Dorset League Division Two three times.
Runners up in Dorset League Division One in 1939, after being promoted.
AFC Bournemouth promoted to the Southern League, then changed their name in 1923 to Bournemouth and Boscombe Athletic Football Club.
 1930-1950:
The two Dorset clubs establish themselves in their respective divisions.
 1957:
Wimborne Town become founder members of the Dorset Combination.
 1972:
Bournemouth adopt the AFC Bournemouth name, new badge and kit.
1980-1990:
Wimborne Town win Dorset League Division One without losing a match. The club also improved their stadium – then entered the FA Cup and FA Vase for the first time.
Bournemouth beat Manchester United in 1984, managed by Harry Redknapp. They win the Third Division, but were relegated in 1990.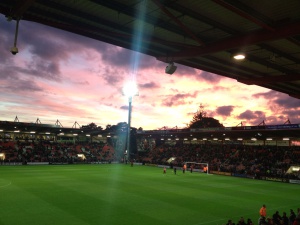 1990-2000:
Wimborne win the FA Vase at Wembley – then achieved the league and cup double.
Redknapp resigns – Tony Pulis is hired.
Pulis leaves in 1994, citing financial reasons.
 2000-2010:
Wimborne win Wessex League Cup, and are promoted to Southern Football League in 2009.
Bournemouth promoted to Division Two in 2002.
Bournemouth forced into administration in 2008 – and suffer 10-point deduction, with debts of £4million.
The club, under Eddie Howe, finishes 2nd in League 2 and are promoted.
 2010-present day:
Wimborne reached final of Dorset Senior Cup, lost 2-0 to Dorchester.
Hired Harry Redknapp as director, amongst financial issues.
Howe takes Bournemouth into the Championship, then Premier League.
The club are now currently mid-table in the top division, beating the likes of Premier League giants Liverpool.
Read more here:
Local football clubs experience financial struggles of non-league survival
5 reasons why YOU should support your local football club!