The blind football event at Bournemouth University was a great success and University students showed a lot of enthusiasm whilst playing.
One participant Josh Wilde ,18, is a student at Bournemouth University and had this to say about blind football:
It was a great day and it was interesting to learn about a different type of sport.
What first appealed to you about the blind football event?
It was an opportunity to try something a bit different and outside of my comfort zone.
What did you find most challenging?
             "How talented these blind players are"
It was harder than I imagined to control the ball, let alone run with it and attempt to score, whilst wearing a blindfold! It struck home how talented these blind players are to produce some of the skills they do on the pitch.
Do you see the appeal in the sport for partially sighted people?
I believe it's very important for there to be opportunities for people with disabilities. Not only for the obvious health benefits but also the social aspect.
What do you think can be done to increase the public awareness of blind football?
I'm not too sure what more could be done to increase the public awareness of the sport. Maybe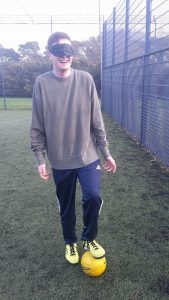 radio advertisements would reach the desired audience?
Did you have any previous knowledge of the sport?
I had never tried blind football before and that's one of the things that attracted me to this taster session.
Would you go to watch a live blind football match?
If the opportunity came up I think it would be interesting to see how a live game differs to that of a traditional match.
Would you be interested in participating again?
I think I would be interested in playing again with my friends if the opportunity arose as it was an enjoyable experience.