Frequently Asked Questions: On the Christmas ice rink.
The Christmas Ice rink is only a temporary attraction in Bournemouth during the Christmas period. This is a helpful guide on general questions from your home comfort.
There are several attractions in Bournemouth's Town Centre, one of them being the ice skating rink. The Ice skating rink opened on the 16th November 2016 and closes on the 3rd Jan 2017. The ice rink is available for schools/groups to book out.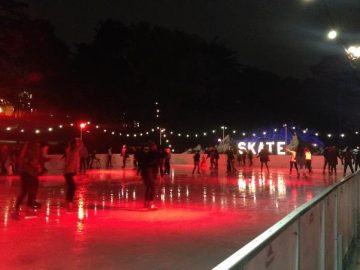 Here are some questions those searching for help may ask:
Where is the ice rink located in Bournemouth?
A: The ice rink is located in the Town Centre gardens, round the corner from Debenhams.
Are there drinks available near the ice rink?
A: There's a chalet style hut opposite the ice rink where you can buy beverages and snacks, such as Mulled Wine, Hot Chocolate and Mince pies (Festive beverages).
What time is the rink open and what time does it close?
A: It opens at 10:30 am and closes at 10:00 pm.
Is there anywhere to sit if I'm not skating but a friend/ family member is?
A: There is a cosy festive room in the chalet with blankets that is available. However gets rather busy. Also there are table and chairs in a more open space inside the chalet.
Can I buy tickets online or do I have to purchase in the chalet?
A: Yes, you can purchase tickets online. Click here to take you to the page.