Q: What is prostate cancer?
A: Prostate Cancer is the most common cancer for men in the UK. The prostate is a small gland in the pelvis only found in men. Prostate cancer can spread to the area just outside the prostate or in more advanced cases it can spread to other places in the body.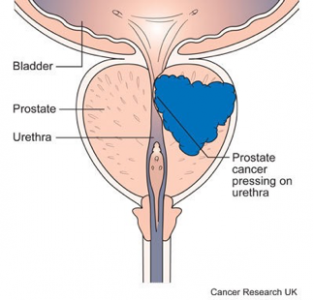 Q: What symptoms are there?
A: When the prostate is large enough to affect the urethra (the tube that carries the urine from the bladder to the penis) your symptoms will become most evident.
Symptoms such as, increased need to urinate, straining while urinating and feeling that your bladder has not fully emptied.
It is suggested that over the age of 50 you get regular check ups, as sometimes symptoms do not show and it is the best chance of getting an early diagnosis.
Q: Is prostate cancer genetic?
A: You are two and a half times more likely to have prostate cancer if your father or brother has had it, and even more so if they were under sixty years old, compared to a family whose relatives have not had the disease.
Q: How many people are diagnosed with prostate cancer in Dorset?
A: 233.9 per 100,000 (0.23%), which is higher than the UK average of 181.4 per 100,000 (0.18%). 1 in 6 cancer cases are prostate cancer.
Q: Is there anything I can do to prevent having prostate cancer?
A: There is no certain answer to this question. It is suggested to eat well and exercise when you get older which may mean you are less likely to be diagnosed with an aggressive or advanced prostate cancer.
These answers were sourced from the following trusted websites:
Related stories: