The British bee has seen a huge decline in numbers in recent years due to pesticides, habitat loss, climate change and very recently the threat of the Asian Hornet.
The insect that measures around 20mm was seen in Gloucestershire and Somerset, which raised a cause for concern due to their notoriety for preying on honey bees.
The National Bee Unit tracked down the nests of the hornet and they have been eradicated – meaning the species is no longer on UK soil.
However, the fight to increase and help the bee population is still ongoing.
Angela Pooley of East Dorset Friends of The Earth, spoke of their bee campaign, known as the 'Bee Cause': "It is our most positive campaign, everyone loves bees."
"without them we won't survive."
The East Dorset Friends of The Earth are actively campaigning to inspire people within the community to encourage bees in a positive and fun way.
This can involve planting wild flowers to rejuvenate the bees' habitat and by encouraging people to stop using pesticides which harms the bees.
Ms Pooley has praised Bournemouth Council for their involvement: "We encourage them to have areas dedicated to wild flowers on grass verges."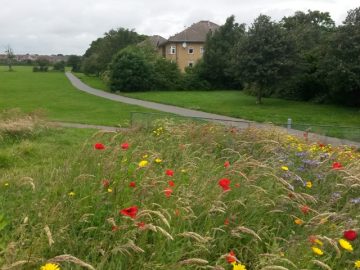 Slades Farm is a local area endorsed by community led project, Transition Bournemouth, and Friends of the Earth, that encourages the sustainability and conservation of wildlife.
This is beneficial for the bees as projects include, creating habitats for wildlife and sowing seeds for flowers and trees.
However, despite the local efforts, Ms Pooley warns that: "Nationally it is still a big problem" and recognises, "without them [bees] we won't survive."
Images used are royalty free and can be found at:
Pexels – Bees by Terry Artt
Geograph – Wild Flowers by Chris Downer
Related Content:
Top tips from the Royal Horticultural Society for encouraging bees in your garden
Bournemouth's Slades Farm in the fight for bee conservation